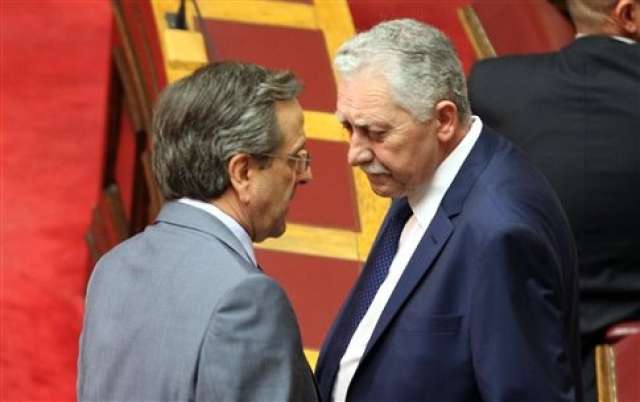 By Spiros Sideris – Athens
Fotis Kouvelis appears to be the person of convergence between Prime Minister Antonis Samaras and deputy Prime Minister Evangelos Venizelos as the more appropriate choice for the election of the President of the Republic.
According to information from the Sunday edition of "Kathimerini", Samaras has now focused his political planning on the proposal to Kouvelis and what is now left is to gradually build the steps that will lead to a positive response.
These steps are the ungearing of country from the Memorandum, the settlement of the greek debt and the change in the mix of economic policy in the direction of tax relief and development, for which the Prime Minister expressed his certainty that they will be achieved in the upcoming negotiations with the lenders.
According to information, if Athens ensures this major shift of complete exit from the largest post-war crisis, Kouvelis will have no reason to deny the motion to proceed to the highest office.
Meanwhile, as noted by the Sunday's edition of "To Vima", the operation of approaching independent MPs who could join the government in the election of the President has already started.
According to the newspaper's reports, this role has been assigned to State Minister Dimitris Stamatis, the chairman of the House Evangelos Meimarakis, Health Minister Makis Voridis, parliamentary spokesman Adonis Georgiadis and Kostas Markopoulos, all of whom are doing exploratory contacts.
Similar operation is being performed by PASOK, with Christos Protopapas having a prominent role in approaching independent MPs from the area of ​​the center-left.
The same sources say that Samaras insists that one way or the other the presidential majority of "180" will be achieved and at Maximus they emphasize that the process will begin before February 2015.
For his part Tsipras clarifies that SYRIZA will not propose a candidate and reiterates that "consent can and should be formulated around the person of the President as expressed by the people". Commenting on whether the government can collect 180 MPs, Tsipras said in Real news: "Mr. Samaras is afraid to open the Plenary because he does not have the 151 MPs for the PPC bill and now tells us that he has 180? And if does have them where has he put them, in the freezer? It's a joke".