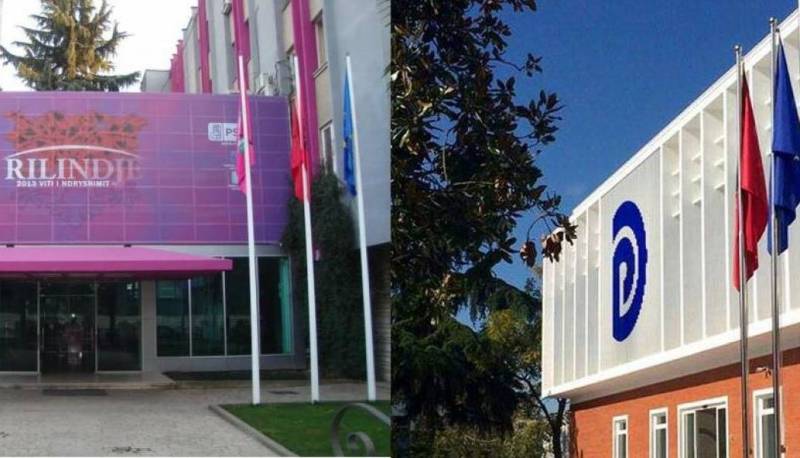 Tirana, 17 December 2015/Independent Balkan News Agency
By Edison Kurani
When a young man who was engaged to the daughter of two senior socialist officials, ran for the head of Youth Forum of the Democratic Party, many people were skeptic about his triumph. What's more, the rivals were Ervin Salianji, a name promoted by the opposition through his public appearances and Oriela Nebijaj, spokeswoman of this party, the largest one of the Albanian opposition.
However, Belind Kellici (on the photo below) managed to win by a wide margin, in the elections which were held all over Albania.
This victory was widely commented within opposition as a handicap. Some say that the fact that Kellici is engaged to the daughter of the socialist MP, Ledi Shamku and the Prime Minister's adviser, Artan Shkreli, is unacceptable, because the future MP (under the DP's bylaws, the head of the Youth Forum of the Democratic Party is automatically elected an MP), will not be able to freely unveil the opposition program, which will be accompanied by attacks against the opposing side.
All of this was at the focus of the opposition's ranks and the media, up until a few days ago when the results of the elections held within the Youth Forum came out.
But now, it seems that things are precipitating in order not to make the same "mistakes" made so far.
Dr. Reila Bozdo, national coordinator of the DP and member of the National Committee of this party, says that "politicians of opposing parties can fall in love with each other- it seems interesting and she recalls Romeo and Juliet- but an opposition member cannot be a true opposition member for the citizen in these circumstances".
Therefore, she has launched an incentive to draft a code of conduct for all political parties.
Bozdo offers details about what the Code of Conducts of these parties contains: "Conflict of interest according to which people must resign their post should they have a financial conflict of interest with political opponents, if they abuse with power, if they accept expensive gifts as a sign of gratitude, if they use state properties and are employed in organizations which have a conflict of interest with the party or its causes".
But what are the reasons that make a politician mistrustful for the public? Mrs. Bozdo mentions three points. Among them, people who have committed criminal offenses and low transparency of the wealth of officials and politicians.
In the other two points, Bozdo includes the business relations between left wing and right wing politicians. "Politicians of opposing parties are business partners. Can two politicians be political opponents if they share financial interests? Maybe, but it's so rare that it's unbelievable", Bozdo says.
Bozdo says that these four points do not consist on a proposal for a Code of Conduct, adding that they "are reasons which are thought to be reducing public trust". "Of course, in this age of freedom that we live in, it's unperceivable to stop people from loving each other, but we cannot deny its influence in the public's perception". Bozdo says.
And it's this aspect of the fourth point which prompts debates among civil society in the country.
Within the DP, there are voices against Bozdo. Leonard Olli, the head of democrats in the Tirana Municipality Council, says that point 4 is a violation of human rights. "No regulatory codes or any laws of this country can come above Constitution and above the rights and obligations which are enshrined in it", DP's national coordinator says.
However, he admits that "the need of a code of conduct or a moral code is a necessity in our political and public life".
Altin Goxhaj, head of the Office for Citizen Protection (ZMQ) says that this point is unacceptable. According to him, with this suggestion, the opposition "offers political opponents all the necessary reasons to consider DP a communist party which follows the standards of Enver Hoxha".
According to him, "in politics it's not enough to have the good will, but above all public's perception". And according to Goxhaj, it's a fact that "everyone is joking in social networks and media".
Meanwhile, Kristi Pinderi, head of an NGO, praises the idea of the creation and the application of a Code of Conduct.
But he says that: "I like the idea of a code of conduct, but there's nothing more stupid than point 4, which only used to exist during communism. I wonder whether we should be afraid of a party that is afraid of love", Pinderi says.
Meanwhile, journalist Erl Murati, editor in chief of the daily newspaper "Gazeta Shqiptare", says that another point that could be introduced is that concerning ministers: "Ministers of the political opponent must not be made ministers by the other side, as it has happened in the past".
"To appoint former ministers of your rival as current ministers, is a violation of the code of conduct", Murati suggests, referring to the fact that socialist ministers were also given posts by the DP.
***
Our life is more and more affected by the media; television, radio, online or printed. Politics still remains the argument of the day in Albania and politics dominates the media. Media dominates our lives. As a result, the political content leads our daily lives.
The language that elected politicians use to serve their political argument or their platform, has a great impact in the language that the public uses. Also, for the public, the political thesis of a politician is an integral part of his/her life and incompliance between these two, decreases public's trust on the politician.
Today, faith on politics has been decreased for many reasons. World practices recognize the code of conduct in the electoral campaign, which is either made part of an electoral law or several parties agree beforehand to have an ethical communication.
World Practices also recognize parties' internal Code of Conduct.
Therefore the drafting of a code of conduct and its real application, is an imperative of the moment. /ibna/