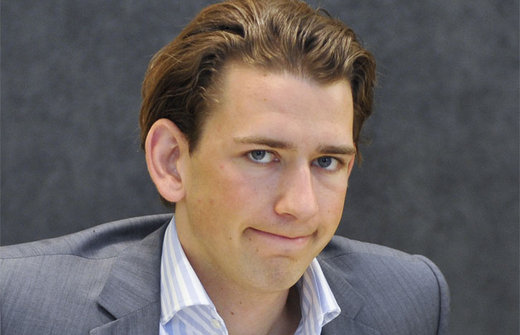 Turks hackers attacked the website of the FM of Austria
By Manolis Kostidis – Ankara
The planned visit of Recep Tayyip Erdogan in Vienna has caused both a diplomatic and an internet "war", with the Austrian Foreign Minister warning the Turkish prime minister  not to cause division in the county's society and with Turkish "hackers" responding with an attack on his website.
Erdogan, will visit Austria next Saturday and is planning to speak at a gathering of Turks in the context of his electoral campaign for the upcoming presidential elections in Turkey this August, in which Turks who live abroad will be eligible to vote. However, he has not yet announced his candidacy for the presidency of the country.
The Austrians however, are not looking forward to this visit and this is the reason why they have not made a big football stadium available to the Turks as the Turkish prime minister wanted, but rather they were granted permission for a gathering in an ice-skating rink that can host 7000 people.
The 28-year-old Austrian Foreign Minister Sebastian Kurz in an interview had warned Erdogan about the speech that he will make in Austria and stressed that "Erdogan must ask for the integration of the Turks to the austrian society; he should urge them to learn German; that's what's right". If however he makes a speech like the one in Germany where he caused discord, then this will create a problem. He should be careful".
Erdogan in a speech he had made the previous month in Cologne he had recommended to the Turks to not integrate into the german society. "Assimilation! No. I've said it before. Do not endanger our language, religion and culture".
After Kurz's "recommendations", "hackers" attacked its website and uploaded photos of Erdogan and Suleiman the Magnificent, while they wrote the text in three languages.
The Akıncılar group (Raiders), as these hackers call themselves, wrote on Kurz's website: "Minister of Foreign Affairs of Austria. Who do you think you are, kid? You cannot determine how the prime minister speaks. Erdogan is the grandson of ancestors who reached Vienna, the soil on which you now walk. We are Akıncılar (Raiders), we are Ottomans, we are Turkey!".