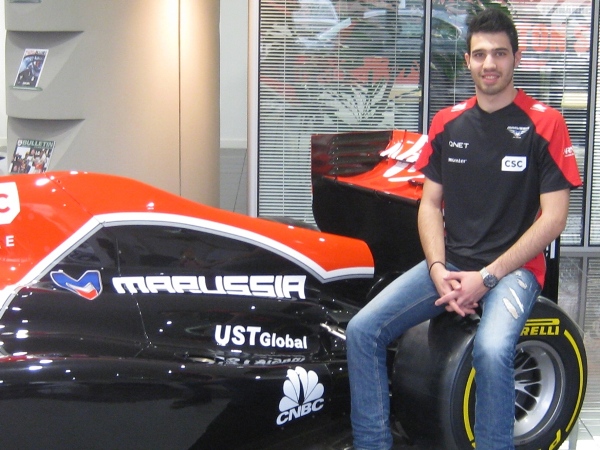 By Thanasis Gavos – London
Cypriot fans of motorsports are still buzzing following an appearance in a Formula One test race by Tio Ellinas, the 21-year old race car driver from Larnaca.
Ellinas was present at the Silverstone Young Driver test on 18th July in the legendary British track, dressed in Marussia's colours. The location of his second test in a F1 race car, but the first one in a proper racing circuit, could not have been more appropriate for a young driver, as he enjoyed the support of many of his proud compatriots based in Britain, along with the cheering of family members and supporters that made their way from Cyprus.
Tio is currently leading the GP3 title race and experts say he is one to watch for the future, a view shared by his team Marussia. The team's principal said he was impressed by how the youngster handled the pressure and conducted himself in a proper circuit with a car much more complicated that the ones he is used to.
UK Cypriots that had the rare opportunity of watching a compatriot race in a F1 race car were over the moon with excitement. They note that Tio Ellinas confirms the rise of Cypriot sports, in a way unseen in past decades. The young driver seems to have all it takes to make a brand name of himself in the way that Marcos Baghdatis has managed to do in his sport and command the international respect hard-working athletes such as Pavlos Kontides, Eleni Artymata and Kyriakos Ioannou have gained.
People that were present at Silverstone travelling from London came back with nothing but praise for Tio's commitment, ambition and down-to-earth character. As for himself, his statement said it all: "Without doubt, today has been the best moment of my life. It was a fantastic experience that I know I will remember forever. I feel very proud to be representing my country and to have so much support from the people back home in Cyprus."