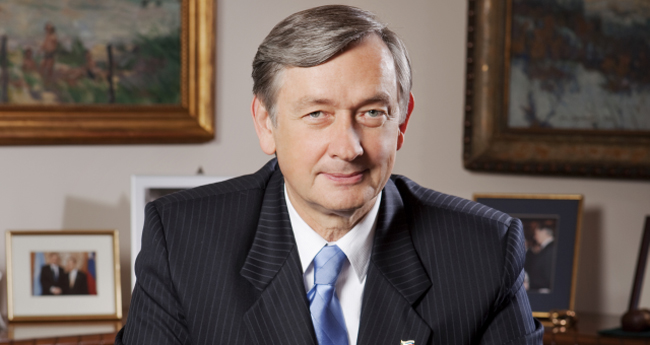 Danilo Türk, Slovenia's former president, has labelled the address of Croatian PM Andrej Plenković to the 72nd session of the UN General Assembly on the Slovenian-Croatian border arbitration award absurd and in violation of international law.
"It was a very unusual address. To put it very mildly, we could say that the address was absurd in its content and a violation of international law as regards its legal effect. It is a distinct case of unilateral action and violation of international law," stressed the former UN secretary general candidate.
Türk further said that Croatia had not withdrawn from the arbitration agreement, it had instead taken a unilateral decision that violated international law.
Subsequently, Slovenia should define Croatia's actions as violations and determine that the country had disqualified itself "from many things it could have expected as a member of the EU".
Slovenia should not speak about "blocking" Croatia's membership of the OECD; instead it should argue that Croatia had disqualified itself from the membership because it had rejected the arbitration award. "I cannot even imagine how Croatia could be a credible OECD candidate after it had disqualified itself like this."
The former president backed Prime Minister Cerar's cancellation of the visit to Zagreb planned for 27 September as suitable. Currently, it is not possible to expect the visit to have any effect. "In reality, things are so base that Slovenia should not stoop to this level," he added.
Türk, however, advises calmness and nerves of steel in addressing the issue: "We have an end game, it was accepted as part of the arbitration agreement, and the arbitration award is also not 100% ideal for Slovenia. But Slovenia is a country that takes seriously international law and law in general."
He further noted that it will be easier for Slovenia to get friendly support based on international law where "it is really needed and can be effective". "We have the support, but there is still some work to be done to make it complete."
Touching on Slovenian-Croatian ties in general, Türk said there were no historical reasons for bad relations, but "at the time of independence and later, several reasons have accumulated for Croatia to envy Slovenia's progress".
"I believe that this political-psychological factor has played a major role in Croatia and it continues to be an obstacle for rational discussion," he believes. Recent developments in Croatia are not rational and belong to a mentality that has no place in rational European dialogue, Türk added./IBNA
Source: The Slovenia Times