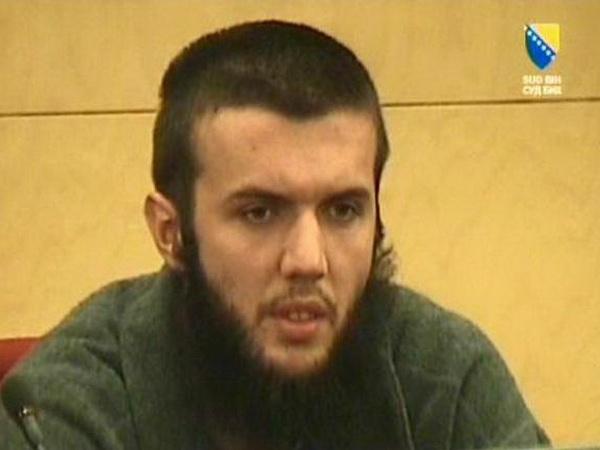 The Bosnia and Herzegovina state Court (BiH Court) sentenced Munib Ahmetspahi to three years in prison for participation in an Islamic State paramilitary unit in Syria, after accepting a plea agreement that Ahmetspahić signed with the BiH Prosecutor's Office.
"The Chamber decided to accept the agreement and consider it legitimate. The court issues a conviction for the commission of the crime of organizing a terrorist group in the manner described in the indictment and sentenced him to three years in prison", said the presiding judge Branko Perić.
Ahmetspahić, as it was noted in the verdict, was in Syria and Iraq in the period from 2013 to 2018, where he joined the paramilitary unit of "Jabhet al-Nusra" and "Al-Nusrah Front" organizations. He was involved in terrorist activities and during his ISIL involvement he was wounded.
Previously, the BiH Prosecution Office stated that it was supported by evidence that Ahmetspahić communicated with other BiH citizens in the territory of Syria and Iraq and that upon his arrival in BiH he organized and helped the departure of another BiH citizen to ISIL paramilitary organizations.
Ahmetspahić is very well known to the BiH public as a person with radical Islamic beliefs. Before leaving the country to join paramilitary organizations he had been acquitted of the charges of organizing a terrorist group and that he destroyed the evidence and traces after the terrorist attack on US Embassy in Sarajevo, in October 2011. In that attack, Mevlid Jašarević shot at the US Embassy, before he was shot in the leg and get arrested. Jašarević was sentenced to 15 years in prison for this terrorist attack.
Judge Perić told that Ahmetspahić, according to the agreement, is obliged to testify against the other indictees if needed. Prosecutor Dubravko Čampara stated that Ahmetspahić came back to BiH as a disabled person with a high leg amputation, and that he was completely honest in his communication with members of the State Investigation and Protection Agency and the Prosecutor's Office of BiH.
"He committed himself to concrete testimony on the circumstances of the situation in Syria, the circumstances of others who returned and who was with him and how he returned. His movement was difficult due to the high amputation. Particularly interesting is the finding and opinion of neuropsychiatrist Abdulah Kučukalić, who stated that Ahmetspahićis is completely deradicalized. He knows that he made a mistake, he wants to live in BiH with his children", Čampara said.
According to the attorney, Rusmir Karkin, after several months in Syria in 2013, Ahmetspahić was wounded and became a disabled person.
"His desire was to return. He married a Bosniak woman and has two children. For two years he tried to find a safe way to return to BiH. He was aware that he would be the subject of investigation", Karkin said.
Ahmetspahić was arrested in November 2018 at the Sarajevo Airport./ibna