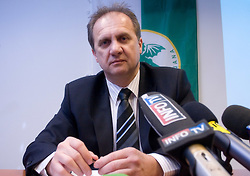 Ivan Simič, Slovenia's ex-tax chief is as well among the names of "infamous" rich people mentioned in the Paradise Papers.
Actually, Slovenian media are saying he is one among dozens of other local figures and companies who appear in the Papers. In particular, newspaper Delo which is a partner in the International Consortium of Investigative Journalists (ICIJ) wrote that "(…) its journalists have uncovered traces of 76 Slovenian individuals and firms leading to Malta and Cyprus."
During their research, the journalists of the paper came upon Ivan Simič's name who was not only the head of Slovenia's Tax Administration between the years 2006 and 2008 but also led Slovenia's Football Association in 2009-2010.
Simič  was found linked to Zlatan Kudić, the founder of Maxicom, too, who "who was exposed as a record tax debtor as the Slovenian tax authorities released a blacklist of the biggest debtors", report The Slovenian Times.
Replying to the unexpected exposure, Simič told the media that whatever he did was legal while his companies on Cyprus and the Virgin Islands had been indeed registered since September 2008…/IBNA
Photo: SPORTIDA Photo Agency