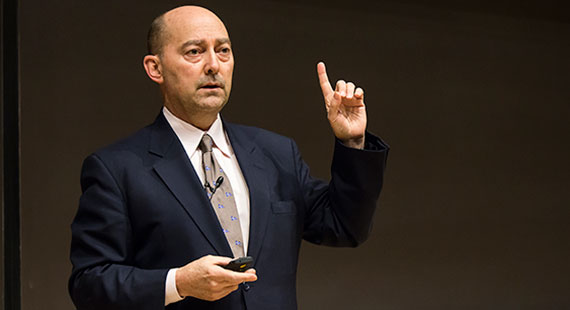 Athens, January 15, 2016/Independent Balkan News Agency
By Marina Spyropoulou
The Grexit nightmare is no longer on the table, but the specter of Brexit may cast a dark shadow over the European and international economy during 2016, fuelling EU's existential crisis, according to James Stavridis.
"We will do everything we can to convince the British to stay in the EU. We want a strong Europe," stressed the Dean of the Fletcher School of Law and Diplomacy at Tufts University and retired U.S. Navy Admiral during a lecture on "International Security in the 21st Century" at the Konstantinos Karamanlis Foundation premises in Athens on Wednesday evening.
Stavridis warned that an existential crisis for the EU may be the major geopolitical event this year. The economic headwinds, the ongoing refugee crisis and the terrorism threat will test European institutions, as well as the international community, he said.
Referring to other challenges we face as a global society and the perils laying ahead he expressed great concern about the Syrian crisis, ISIS, the Sunni- Shia increasing tensions and the slowdown of the Chinese economy.
Which is the most dangerous nation in the world that we need to be watching closely in 2016? In his view undoubtedly North Korea. The image of a young, untested and "mentally challenged" leader with nuclear weapons most worries the retired Admiral.
On the ways to collectively address the challenges, Stavridis suggests the use of soft power first of all. He acknowledged that in the past "there were more times we had not listened enough before taking action".
In Syria's case for instance he would like to see several countries from the U.S. to Russia and Iran coming together to impose a solution based on the Bosnia model.
Asked about Russia, Stavridis said that "we should be most concerned about its weaknesses rather than President Putin's assertive foreign policy".