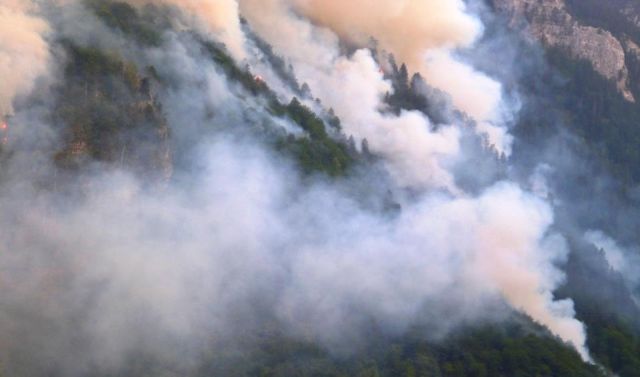 By Medina Malagić – Sarajevo
A forest fire erupted in the forest near Jablanica, BiH on Monday night at around one in the morning. Firefighters ended up requesting the assistnace of the BiH Armed Forces, which were put in control of monitoring the situation from the air since they were dealing with inaccessible terrain.
The forest fire that was still burning this morning engulfed around 2,5 hectares of forest area.
Around 20 members of the Professional Fire Brigades and Jablanica Mountain Rescue Unit helped in extinguising the fire that has been raging since the early hours of Monday morning.
According to the fire brigade, the cause of the forest fire was the fall of conductors below the power lines.
Firefighters spent the entire day yesterday attempting to put out the fire. As of this afternoon, the wildfire has been put under control and does not pose a threat any longer to neighboring villages. However, firefighters will remain on call in the area in case a fire should erupt again.
Even thought the fire has been put under control, this area of BiH is found between the mountains Čvrsnica and Prenj, and there is a fear that the wind that constantly flows between these two mountains would spread and contribute to another eruption of a forest fire.
The situation was also able to be stabilized for now because the teams that were responsible for putting out the forest fire were divided into two groups, and the fire was located in two areas.
In addition, even though the forest fire went on this morning, it was much less intense than the previous day, and the cooler temperatures at night were to account for this.
This is not the first forest fire that has erupted in the southern BiH and in the area of Jablanica. The region experienced record high temperatures last summer and scarcity of rainfall, and firefighers battled blazes that erupted one after the other in several areas throughout southern BiH.