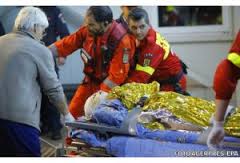 Bucharest, October 31, 2015/ Independent Balkan News Agency
By Irina Stoica
There will be three days of mourning in Romania after a Halloween concert ended up in tragedy in a nightclub in Bucharest. 27 people, mostly youngsters, died after a fire engulfed the "Colective" club. Hospitals in the Romanian capital are struggling to cope with the 162 injured victims, dozens of them in critical condition. They have severe burns on up to 80% of their bodies and have been intoxicated by smoke. Officials informed the media that some of the victims were foreigners, but so far gave no details about their nationalities.
The fireworks that ended the rock band's show were the trigger for this tragedy. A fire started and spread swiftly. "When I saw there were using fireworks in that small crowded place I felt something was not right. It was like an alarm started inside my head and I knew I had to be as close to the exit as possible. I went out the moment I saw the fire start. Someone on the stage told the audience there was a small technical problem, but I saw the fire engulfing the ceiling and moving like 3 meters per second. Then a part of the ceiling fell in the bar area. I believe none of the young girls working there had any chance to escape. They were stuck there and I knew their fate was sealed. Then bodyguards intervened and told everyone not to rush to the door. They tried to keep things under control so the people won't step on each other. But I think many lives were lost because people couldn't get out earlier and easier", one witness named as Florin told IBNA correspondent.
As the doctors are struggling to keep the injured alive and families are desperately trying to locate and identify their dear ones, an investigation has started in order to clarify the circumstances that led to the horrific  events. A cabinet meeting has been convened for today.