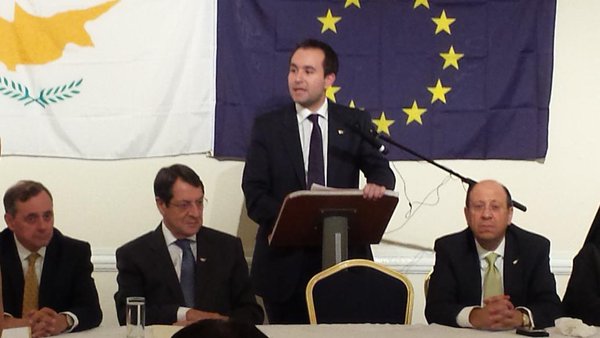 London, September 14, 2016/Independent Balkan News Agency
By Thanasis Gavos
The UK Government continues to "support strongly" the efforts of the two communities in Cyprus towards a just and lasting settlement, as a Foreign Office letter addressed to the head of the organised UK-Cypriot diaspora states.
The letter is the Government response to a resolution by UK Cypriots, bearing the signature of Christos Karaolis, President of National Federation of Cypriots in the UK, that was handed in in Downing Street last July marking yet another sad anniversary of the 1974 Turkish invasion and beginning of the illegal military occupation of the northern part of Cyprus.
The Federation President was asking the new Prime Minister Theresa May to "demand that Turkey works sincerely and through real deeds, not empty words, for the reunification of Cyprus" and "remind Turkey of, and pressurise Turkey to fulfil, its obligations to the EU and UN in relation to Cyprus."
Sticking to the usual line over Cyprus the Foreign Office official that penned the acknowledgment letter comments that"ultimately, the issues arising from the difficult events of summer 1974 can most effectively be addressed as part of a just and lasting settlement in Cyprus that protects the interests of both communities."
The letter also commends "the leadership that President Anastasiades and Mr Akinci have shown to enable progress in the UN-facilitated negotiations" and assures Mr Karaolis that "the UK will continue to do everything it can to support the efforts of the two communities to reunite Cyprus."
The Foreign Office repeats its "encouragement" of both sides in Cyprus to seize the "historic opportunity" that now exists to end the division of the island."
In typical diplomatic language the Foreign Office letter makes reference to the Turkish stance, stating that the country has an important role to play in efforts to secure a solution in Cyprus. It goes on to say that the UK Government "welcomes Turkey's continued support for a settlement." UK ministers and officials have had meetings with their Turkish counterparts regularly discussing Cyprus and are expected to continue to do so.
"We value our deep historic ties and strong bonds of friendship with Cyprus," concludes the Foreign Office letter.
Meanwhile, asked by the long-standing friend of Cyprus David Burrowes MP about the possibility of an official Foreign Office statement on the situation in the island, former Minister for Europe David Lidington said that his successor Sir Alan Duncan who recently visited Cyprus would be inclined to inform the House of Commons of his assessment at the next opportunity.
Commenting on the negotiations underway in search of a settlement, Mr Lidington said: "I think all of us across the Floor of the House want to see the day when Cyprus can be reunited and the Turkish and Greek Cypriot communities brought together again. That would be a really good day for the United Kingdom."