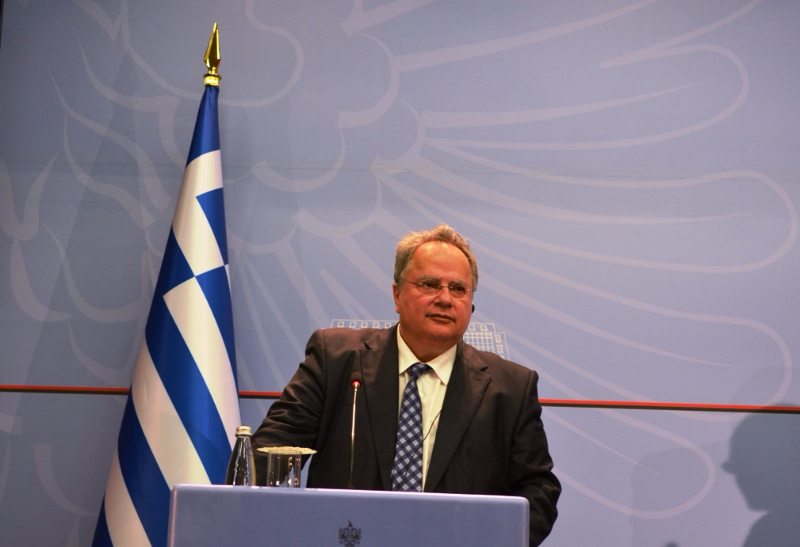 Athens, June 14, 2016/Independent Balkan News Agency
By Spiros Sideris
The Greek Foreign Ministry issued a strong response in every direction for the provocative banner in the Albania – Switzerland football match.
After the immediate placement of the Representative of the Foreign Ministry for the position of the Ministry, a protest letter of deputy minister of Sports Stavros Kontonis was sent, while a demarche was made by the Ambassador of Greece in Bern Chara Scolari to the General Secretary of UEFA, Theodore Theoodoridis.
The Greek Embassy in Paris proceeded to a show of protest towards the French Foreign Ministry. While two strict protest demarches were made by the Ambassador of Greece in Tirana, Leonidas Rokanas, to the leadership of the Albanian Foreign Ministry, with which he asked to deprecate the deplorable, unacceptable and brazen act of the hanging of the banner.
Protest demarches have already been made by the Greek Ministry of Foreign Affairs to the Ambassadors of France and Albania in Athens. The ambassador of France condemned this action and apologized for the negligence to the fact that great emphasis has been placed by the organizers on terrorism. According to information of IBNA, the Albanian Ambassador was informed of the strong dissatisfaction for this act and that "the war criminals and collaborators of the Nazis and fascists can not speak of genocide".
Following the above steps of protest, the French organizers and UEFA pointed out that the hanging of this banner was made before the start of the game, stressed that the removal was immediate and assured the Greek side that all necessary measures have been taken to prevent the recurrence of the unacceptable incident.
From the Albanian side, it was requested to formally condemn this brazen act. So far it appears that Albania has not realized the necessity of such a move, but the necessary steps are taken so that this becomes understood, sources from the Foreign Ministry report.