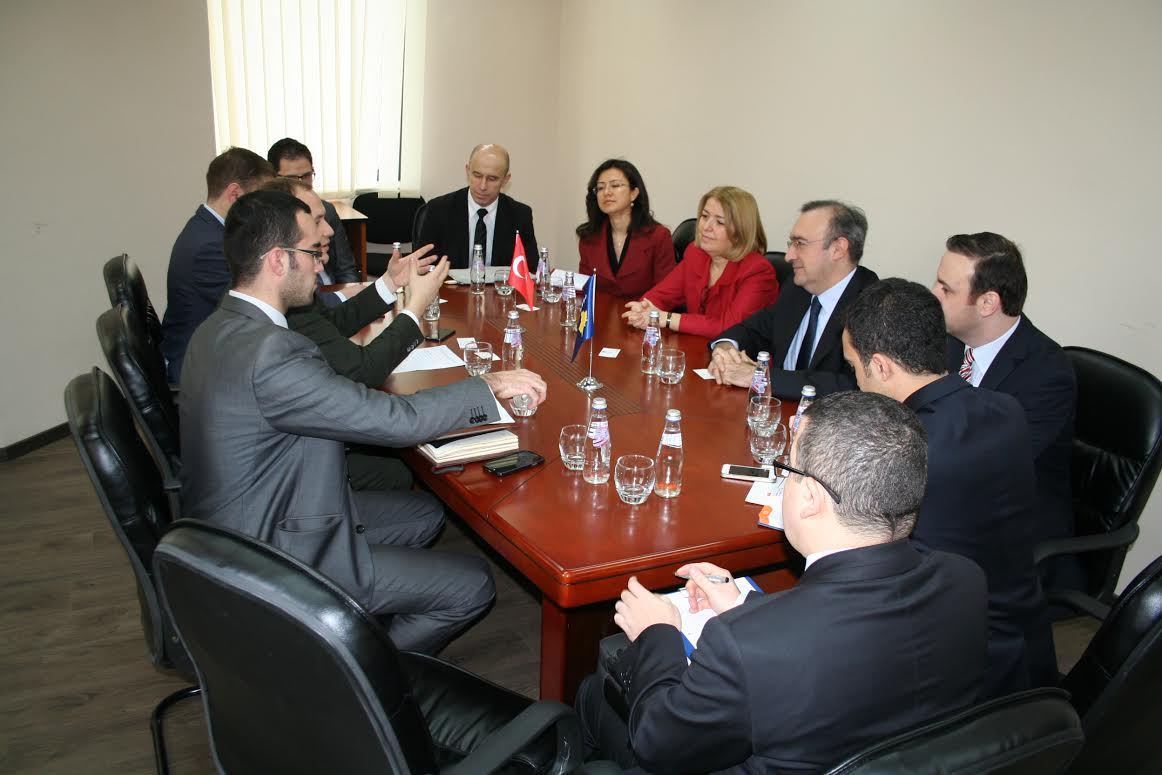 Pristina, December 20, 2013 / Balkan Independent News Agency
A delegation of 6 members from the Turkish Ministry of Foreign Affairs stayed on a three day visit to Kosovo upon the invitation of the Foreign Ministry of Kosovo. Amongst them were heads of the departments of intranet, information, digital media and technology of information.
The visit was held based on the frame agreement which was reached between the Foreign vice Minister of Turkey, Naci Koru and vice Foreign Minister of Kosovo, Petrit Selimi, during an earlier bilateral visit in Ankara.
Foreign Minister of Kosovo, Petrit Selimi briefed the guests from Turkey on the projects and successes in the promotion of Kosovo in the international arena through digital and public diplomacy and Strategy on Digital Diplomacy which has been prepared and being implemented to help in the international recognition of Kosovo. Selimi congratulated the guests from Turkey for the excellent work of the counter part Foreign Ministry and for the implementation of the e-government ambitious program and thanked them for the readiness shown in the cooperation with Kosovo in this domain.
The vice General Director of IT at the Foreign Ministry of Turkey, Haldun Koc, thanked vice minister Selimi for the invitation and congratulated him on the achievements of Kosovo in the domain of digital diplomacy in particular. Koc said that the excellent relations between Turkey and Kosovo will intensify in the segments of information and technology and that the Foreign Ministry of Turkey has the pleasure to share her experience with the Kosovar side in this domain. Minister Koc said that Kosovo is the first country in the Balkan with which Turkey will directly and actively cooperate in the domain of e-government and digital diplomacy.
Parties agreed on offering concrete modules of e-government in general, thus fulfilling a crucial condition for the administrative reform in Kosovo, which is at the same time one of the main criteria in the process of European integration.
Present in the work groups organized by Kosovo's Foreign Ministry were officials of respective domains from the Ministry of Foreign Affairs and the Ministry of Public Administration. After a fruitful debate in three sessions that were held, parties identified the domains of cooperation. As a result, there will be exchanges of experts between respective ministries, including developers of web pages, web designers and media officials and digital diplomacy.
Cooperation between the foreign ministry of the Republic of Kosovo and Turkey will be finalized with the endorsement of an agreement of cooperation at the start of 2014. /ibna/