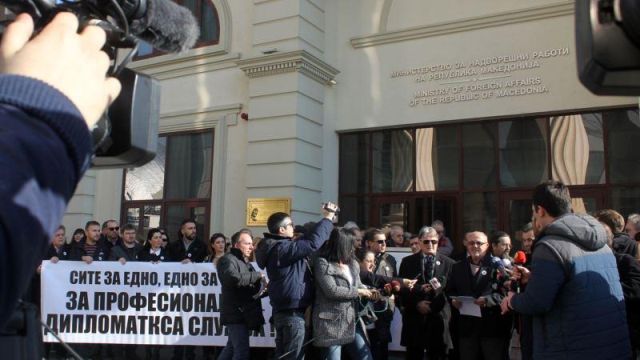 Skopje, 2 February 2016/Independent Balkan News Agency
By Naser Pajaziti
Protests have been held against the Foreign Affairs in Skopje. The diplomatic service employee union at this ministry has organized a protest, as according to them, the diplomacy of the country is being led by unprofessional people.
Sasko Todorovski, head of the union, said that the appointment of party militants in diplomacy is damaging state interests and the representation of the country abroad.
"This doesn't happen in any other democratic country, when it comes to professionalism and values of people who have a diplomatic career", Todorovski said.
According to him, unprofessional people have been sent to embassies and consulates, while experienced diplomats are in the offices of Skopje.
"In 2014 we have had cases when Macedonian officials only have been appointed in diplomatic centers. For this, we have alerted the Minister of Foreign Affairs, but we have received no reply", said Redzep Saliu.
According to him, in this ministry and diplomatic centers, there's a division based on nationality, especially in electoral periods, when only Macedonian employees are sent in diplomatic centers to organize the elections in the Diaspora.
But, the minister of Foreign Affairs, Nikola Popovski has reacted against these claims. He said that these accusations are unfounded and according to him, they are politically motivated.
"In the Ministry of Foreign Affairs, we have responsible diplomats, excellent professionals who know how to do their job and how to represent Macedonia in the world. In the recent years, we have increased the criteria for the recruitment of candidates in the diplomatic service. These are criteria that adapt to the needs of contemporary diplomacy", minister Popovski declared.
According to Popovski, the changes taken place have been made in cooperation with diplomats and experts of international relations.
Former ambassador of FYROM in Bern, Alajdin Demiri, told IBNA that the diplomacy of this country has been captured by politics. "It's very clear that the Foreign Ministry is serving to the party by appointing party militants. This practice has been followed since the independence of the country, but in the recent years it has become more common", Demiri said.
The union has warned that if the situation doesn't change, then more radical measures may be taken. /ibna/