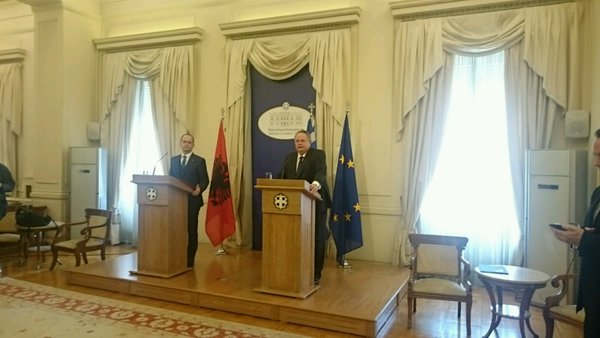 Tirana, 21 March 2016/Independent Balkan News Agency
Albanian Foreign Minister, Ditmir Bushati held a tête-à-tête meeting today with his Greek counterpart, Nikos Kotzias.
IBNA learns from the Foreign Ministry that the meeting lasted nearly 90 minutes, much more than it was predicted and after this meeting, the two ministers delivered a press release.
Foreign Minister Kotzias said that "we have boosted communication with Tirana", while speaking of a renewed plan to improve the 1996 Treaty of Friendship.
Mr. Kotzias added: "Greece is not at war with Albania. For this there is also a declaration of the Council of Ministers in 1987. We have the Friendship Treaty and we are also NATO allies".
Kotzias said that he had spoken to Bushati on "the rights of the Greek minority in Albania and of Albanians in Greece, as bridges of cooperation".
Stopping on important issues that concern the two countries for a while now, Kotzias said that "the basis for the solution of bilateral issues will be International Law and European civilization".
On his part, Foreign Minister Bushati expressed his gratefulness for Athens' support in the path of European integration. "We must not forget the fact that Albania was granted the EU candidate member status during the Greek EU presidency".
As far as the refugee crisis is concerned, Bushati reiterated the stance of the Albanian government and said that "Albania will deliver all of its obligations as an EU candidate member". /ibna/