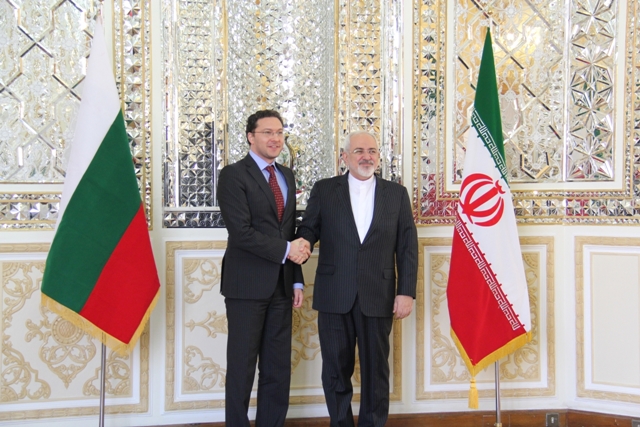 Sofia, December 22, 2015/Independent Balkan News Agency
By Clive Leviev-Sawyer of The Sofia Globe
Iran can serve as a gateway for Bulgarian goods to third-country markets, Foreign Minister Daniel Mitov said at a meeting with his Iranian counterpart in Tehran, while he and Mohammad Javad Zarif also discussed the possibility of making Bulgaria a gateway for Iranian natural gas to Europe.
Mitov was in Iran on a two-day visit on December 20 and 21, with meetings on the second day with Iran's foreign minister, transport minister Abbas Ahmad Akhoundi and culture minister Ali Jannati.
A Bulgarian Foreign Ministry statement quoted Mitov as saying at his meeting with Zarif: "Bulgaria attaches great importance to its relations with Iran, a country with an ancient civilisation and rich cultural and historical heritage which plays an important role in the Near and Middle East."
The statement said that the talks between Mitov and Zarif on the traditionally good bilateral relations in political dialogue, projects of mutual interest, the crisis in the Middle East, and the solving of the refugee issue.
"I am extremely pleased after all this time to meet this guest dear to me, Minister Daniel Mitov. I think his visit to Iran is particularly useful," Zarif was quoted as saying.
Mitov again said that Bulgaria welcomed the agreement on the Joint Comprehensive Plan of Action on Iran's nuclear programme reached on July 14 2015.
Bulgaria appreciated the constructive approach and efforts of the Iranian negotiating team, including Zarif's personal commitment, Mitov said.
On bilateral relations with Iran, Mitov said that the Bulgarian government was happy to register a significant increase in bilateral trade. He said that Iran could serve as a gateway for Bulgarian goods to other markets. The two ministers also discussed bilateral relations in the field of energy. They considered the possibility of making Bulgaria a gateway for Iranian natural gas to Europe.
At Mitov's meeting with Akhoundi, the two ministers agreed that co-operation in the field of transport, particularly the development of a multimodal transport corridor from Bulgaria to Iran via the Black Sea, Georgia and Azerbaijan/Armenia, plays a key role in boosting bilateral trade.
Mitov proposed that the next session of the Bulgaria-Iran Economic Commission be held in Tehran at the end of February 2016.
Mitov and Iran's culture minister signed an agreement on an exchange programme in the field of culture, science, education, sports and media between the governments of Iran and Bulgaria for the period 2015-2018, the Foreign Ministry said.
(Photos: mfa.bg)