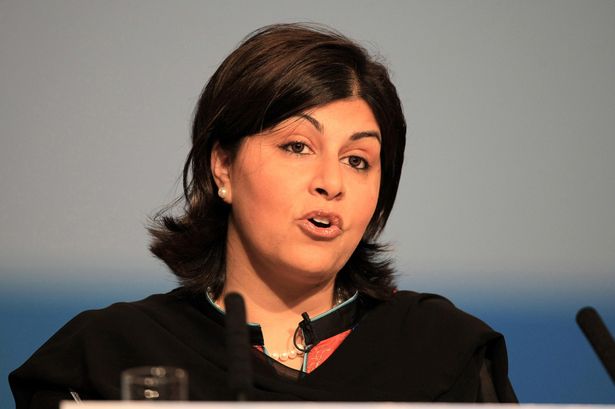 By Thanasis Gavos – London
The subjects of Britain ceding territories of the sovereign bases in Cyprus in the event of a comprehensive solution to the island's national issue and of an international conference in the later stages of the negotiations were among those raised during a House of Lords debate in Westminster.
Representing the UK Government, the Foreign Office Senior Minister Baroness Warsi(photo) did her best to answer a number of questions asked by member of the House. She began by referring to Britain's "strategic interest" in a comprehensive settlement, while she also pointed out the advantages for the wider region.
The Foreign Minister reminded the House of London's active involvement in the shape of recent talks between Europe Minister David Lidington and the two chief negotiators, from the Greek and the Turkish Cypriot sides. As she commented, they both showed "determination and seriousness" to negotiate a solution. Continuing on the same matter, she risked a Greek Cypriot objection by stating that Turkey, like the two communities in Cyprus, is "showing the right level of ambition to reach a settlement."
Baroness Warsi also made clear that London's position has not changed as regards the non-recognition of the so-called Turkish Republic of Northern Cyprus. She also supported an early appointment of a new UN special adviser to replace Alexander Downer. But sticking to her Government's official line, she noted that "the process must be led by the Cypriots, who will need full ownership of any solution." She added that she hoped for further progress in the negotiations from September, when the new UN special adviser is expected to be appointed.
Prompted to refer to some steps on behalf of London that might be useful in encouraging the finalisation of a deal in Cyprus, she said that the UK Government would consider what further political support the Security Council could give to the process, including during the United Nations General Assembly week.
At that point, responding to a specific question by a Labour peer, the minister confirmed that "the UK has maintained the offer to cede nearly half the sovereign base area territories in the event of a comprehensive settlement in Cyprus."
She also replied to a question from Lord Wood about "a meeting with the guarantor powers, including the UK, at some point this year after discussions have begun on the highly vexed issue of territory on the island." The minister's comment was that "the UK stands ready to participate in such a conference once the parties have reached a greater level of convergence on the core issues of the settlement process."
Baroness Warsi concluded by stressing the benefit of a Cyprus settlement for the security and prosperity of the whole region, as well as for Turkey's EU entry prospects. She added that a solution to the Cyprus issue would also allow a full cooperation between the EU and NATO and that Cyprus could become a model for intercommunal harmony.