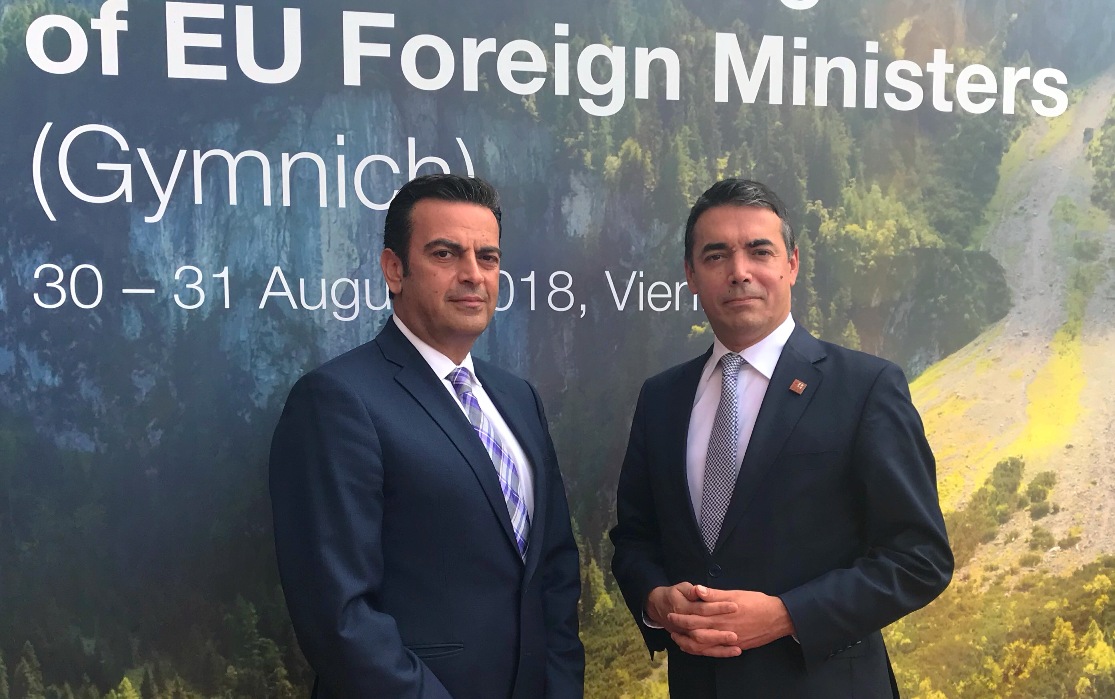 fYROMacedonia's Foreign Minister Nikola Dimitrov is convinced that the citizens of fYROMacedonia will support the agreement with Greece because, according to him, they choose wisely when faced with great historic challenges.
"I am convinced that the agreement will be accepted by our people because, when we are at great historic crossroads, we make wise choices. I am also confident that even the ones, from both sides, opposing the agreement will, from a historical perspective, accept that this is an important step forward because there will be many benefits. We are neighbours, we cannot change this fact, history cannot be changed, but we can influence our future and make it better. It is very easy for a politician to make a living from this dispute, but solving it creates a better life for the citizens of both sides", Dimitrov said in an interview with IBNA from Vienna.
Concerning reactions in Greece over the use of the terms "Macedonians" and "Macedonian", Dimitrov said that two countries in Europe in 2018 can agree on this, because in Greece, when one says that someone is Macedonian, they are referring to the old Hellenic culture and the local (northern Greek) region of Macedonia, and when a Macedonian is said to be in their country, they are thinking of something else.
"Why is that a problem? The right to self-determination is something that can not be disputed in the 21st century in Europe", Dimitrov said. According to him, the "Macedonian language" is a South Slavic language, and so it is stated in the agreement.
"In order to invest our energy into something useful, namely the economic, cross-border and security co-operation, we need to remove and divert this unproductive debate", noted the minister, explaining that the Balkan history is rich, and it is better to agree on what can be done today and the day after that.
"Both I and my friend Nikos Kotzias are convinced that what we are doing is investing in our friendship because we are natural allies. With a proper policy, in several years all dilemmas will fade away and we will all wonder how we had not done this at the beginning of the nineties and why we have put a whole generation undergo this dispute. Our is a concrete achievement that has created a de facto solidarity and a beautiful bridge of friendship," added Dimitrov.
Rating this as the most important issue for the government in Skopje, he announced that the government will continue to work hard and persuade the opposition to support the agreement. However, for the time being, the opposition is accusing the government of capitulation, maintaining they would have achieved a better agreement than the signed one.
"A better agreement, for one or the other party, leads to a lack of agreement. Such is the nature of all compromise", underlined Dimitrov in his interview with IBNA./IBNA