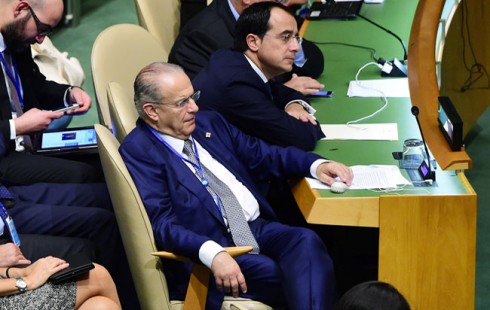 Foreign Affairs Minister Ioannis Kasoulides continues his contacts in New York, on the sidelines of the 72nd Session of the United Nations General Assembly (UNGA).
On September 21, 2017, Minister Kasoulides held a meeting with the Bahrain's Minister of Foreign Affairs, Mr Shaikh Khalid bin Ahmed Al-Khalifa, and counterparts exchanged views on Cyprus – Bahrain bilateral relations and regional issues of common interest. The Cyprus official also briefed Mr Al-Khalifa on the latest developments on the Cyprus Problem.
The Cyprus Problem was also on the agenda of the meeting Minister Kasoulides held with Mr Marcel Amon-Tanoh, Minister of Foreign Affairs of Côte d'Ivoire. Bilateral relations between the two countries were also reviewed.
Earlier on the day, Cyprus Minister participated in the meetings held by the President of the Republic, Mr Shaikh Khalid bin Ahmed Al-Khalifa, with the leaderships of the main American – Jewish organizations in the US, namely the American Jewish Committee (AJC), the American Israel Public Affairs Committee (AIPAC), and the Conference of Presidents of Major American Jewish Organisations, as well as the Secretary-General of the Commonwealth of Nations./IBNA