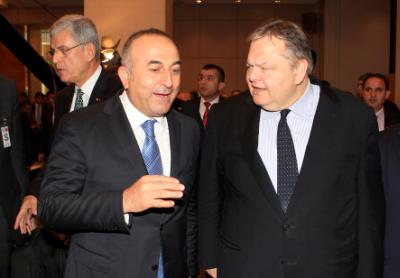 Ankara, December 13, 2014/ Independent Balkan News Agency
By Manolis Kostidis
The proposal to visit President of Cyprus Nicos Anastasiades together, when he returns to Cyprus after his recovery from the US, was made by Turkish Foreign Minister Mevlut Cavusoglu to Vice President and Minister of Foreign Affairs of the Greek Government Evangelos Venizelos, who described it as "very good idea".
The two ministers met on the sidelines of the meeting of foreign ministers of member countries of the BSEC (Organization Black Sea Economic Cooperation) in Thessaloniki.
The two ministers discussed on the steps to be taken on the Cyprus issue and Venizelos raised the question of the withdrawal of the turkish research vessel "Barbaros" from the area of the Cyprus EEZ, pointing out that its presence is a violation of the sovereign rights of the Republic of Cyprus.
According to reports, the meeting took place in a good atmosphere, a week after the Supreme Council of Cooperation between Greece and Turkey in Athens, and the presence of Cavusoglu in such a short time in Thessaloniki shows the positive attitude on the part of Ankara. The two ministers also reviewed the positive response the Greek-Turkish meeting in Athens received from the Greek and Turkish Media. This was the third meeting between the two ministers in three weeks as Evangelos Venizelos had earlier visited Ankara.
Before his departure from Thessalonica, the Turkish Foreign Minister visited the consulate of Turkey and home of the founder of the Turkish Republic Mustafa Kemal Ataturk.
The Turkish minister departed from Thessaloniki at noon and visited Komotini where he had meetings and contacts with members of the Muslim minority.