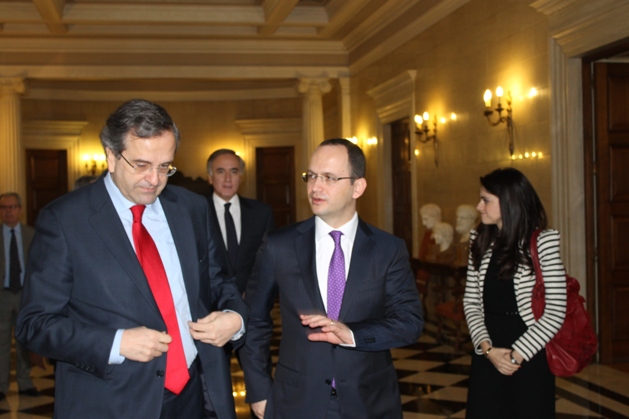 Tirana, February 6, 2013/Balkan Independent News Agency
In the framework of his visit to Greece, the Albanian Foreign Minister, Ditmir Bushati was received today in a meeting by the Prime Minister of Greece, Antonis Samaras.
During this meeting, Samaras and Bushati agreed on the need of further enhancement of relations between the two countries.
They expressed their conviction for a more constructive cooperation climate in the best interest of both countries, contributing to peace, security and development of the region.
On his part, minister Bushati has noted that Albania pays special attention to the cooperation and relations with Greece, by reconfirming to the Greek PM Samaras that Greece is an important strategic partner of Albania in the region.
Bushati also praised the role of the Greek presidency of the EU, expressing his conviction that Greece will continue to be an advocate of the accession of the region in the EU.
Bushati said that the Albanian government is committed to tackle all pending issues between the two countries in the spirit of mutual trust, through dialogue and consults of all levels, in accordance to the new reality in the Balkan.
Meanwhile, PM Samaras, referring to the priorities of the Greek presidency of the EU, said that Greece will offer political support for the integration of Western Balkan in the EU and for Albania to be granted the candidate status in June.
He also expressed the will of the Greek government to resolve pending issues without looking back on the past.
Both interlocutors praised the importance of TAP project for the energy security of the region and as a further opportunity between Greece, Albania and Italy. /ibna/