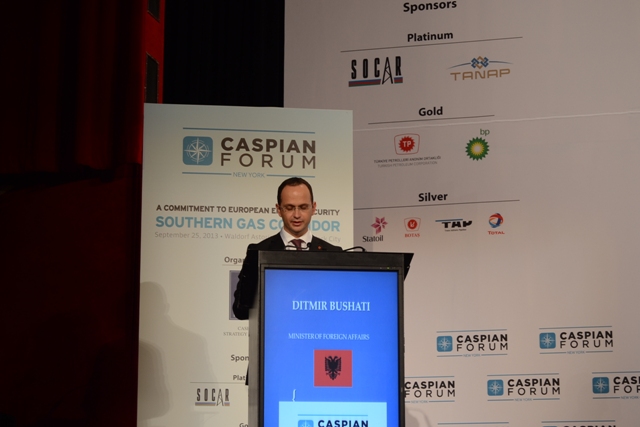 New York, September 27, 2013
Minister of Foreign Affairs, Ditmir Bushati has participated in the activity organized by Caspian Forum in New York.
The scope of the meeting was to be informed about the strategic projects of natural gas that go through the Caspian region toward the Balkan and Western Europe and the new perspectives that these projects open in our region.
Present in this forum were ministers and heads of states from the entire region and beyond. In his speech, minister Bushati stressed the strategic importance of TAP project for our country, making Albania an important point for further gasification of the entire region.
Minister Bushati also demanded the inclusion of Kosovo in this project and expressed his conviction that TAP connection with IAP which goes through Albania, Montenegro, Bosnia and Croatia, will enable not only the distribution of gas for the entire region, but it will also serve as a good interconnection economic point of the region, associated with further effects of expansion in other domains. /ibna/