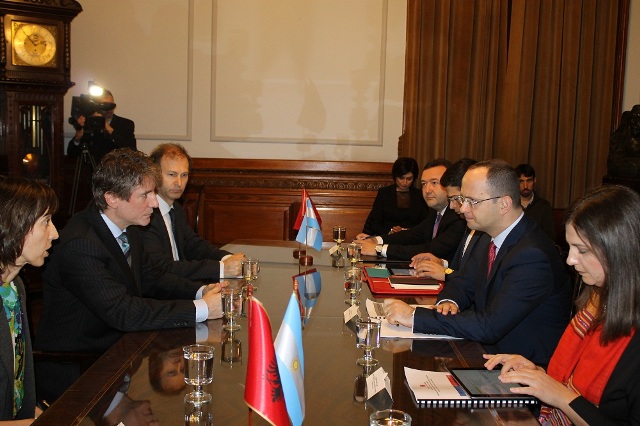 Tirana, 3 November 2015/Independent Balkan News Agency
Albanian Foreign Minister, Ditmir Bushati held an official visit to the Republic of Argentina, the first one of an Albanian head of diplomacy after many years.
Bushati had special meetings with the Minister of Foreign Affairs and Cults, Mr. Hector Marcos Timerman, the vice President of the country and President of the Senate, Mr. Amado Boudou, the head of the Committee of Foreign Affairs in the Parliament of Argentina, Mr. Guillermo Carmonia and also with the Albanian Diaspora there.
In the meeting with the Argentinean Foreign Minister, Mr. Bushati demanded further boosting of economic collaboration, especially in the domain of trade, renewable energy, agriculture and tourism.
The sides discussed on the latest developments in the respective regions and stopped on bilateral cooperation, mainly in the framework of international organizations such as the UN Council  of Human Rights, where both countries are members.
The two ministers also discussed the resolutions approved at the Council of Human Rights, such as "War against violent extremism" and resolution "On the death sentence, as two resolutions which are backed by Argentina and Albania in the Human Rights Council.
Foreign Minister Bushati asked his counterpart, Timerman to take the necessary steps which would enable the participation of Kosovo in international organizations.
The two ministers praised the precious role of the Albanian Diaspora in this country as an active participant in the democratic life of Argentina and as an important bridge for the institutionalization and strengthening of relations between the two countries.
In the meeting with the vice President and President of the Senate, Amado Boudou, the sides expressed their conviction that the intensification of parliamentary exchanges would serve to the strengthening of relations in all aspects between Albania and Argentina.
To conclude his visit to Argentina, Bushati held a special meeting with a group of representatives of the Albanian Diaspora in Argentina, as one of the oldest Diaspora in the world. The minister praised them for the fact that they have preserved their language and culture and gave them several copies of the Albanian ABC books, for the needs of the community in promoting and preserving the Albanian language in young generations. Also, Bushati invited them to participate in the summit of Diaspora, which will be held in Tirana at the start of next year, given that they are one of the oldest Diaspora in the world. /ibna/