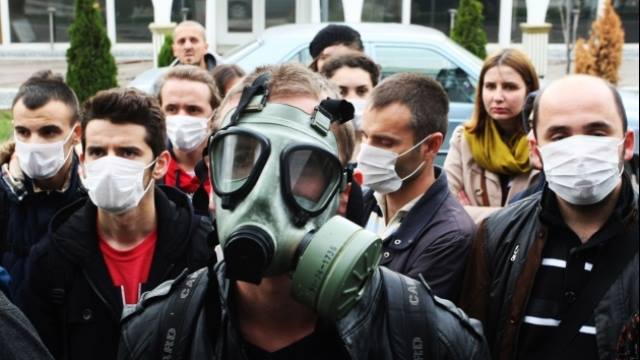 Tirana, November 13, 2013
In spite of the declarations coming from authorities in Tirana that a decision is yet to be made as to whether Syrian chemical weapons will be accepted for destruction in Albania, foreign media report the contrary.
In its program "The Stream", Al Jazeera pays special attention to the destruction of the chemical arsenal of Syria.
The director of the Green Cross International program, Paul Walker, who was invited in the program, said that the decision to destroy Syrian chemical weapons in Albania has been taken and the decision will be announced on Friday.
Mr. Walker said that almost all chemical agents will be transferred to our country.
Asked as to why Albania has been chosen for the destruction of these chemical weapons, Walker said:
"I asked the same question a few weeks ago. Who would have ever thought of Albania? This country has undergone a process of the destruction of chemical weapons in the past. In 2007, for 6 months the country has destroyed 16 tons of chemical wastes, consisting on mustard gas coming from China. The destruction of chemical weapons will take place in the next 2 to 3 months", said Walker.
He added that the most important thing is to insure safety in spite of the location that is chosen.
According to the director of Green Cross International, Paul Walker, Albania has positively responded when USA and Russia asked as to who would be ready to welcome these chemicals to be destroyed.
"They established a small base, a small industrial facility and I believe that the process will kick off in Albania in the next 2 to 3 months", said he.
But what Mustafa Kibarog, professor at the "Okan Tuzla" university fears, relates to the transport of the chemical arsenal out of Syria at a time when fights continue and the capacity of Albania to destroy around 1 thousand tons of chemical substance consisting on sarin gas and mustard.
Yesterday, the prime minister of the country, Edi Rama said that NATO countries are still discussing and that the country is not yet ready to take a decision. Rama admitted that he has discussed with the US Secretary of State for 30 minutes on the phone, but that no decision has yet been taken. The prime minister said that the decision will be shared with the public and parliament. /ibna/