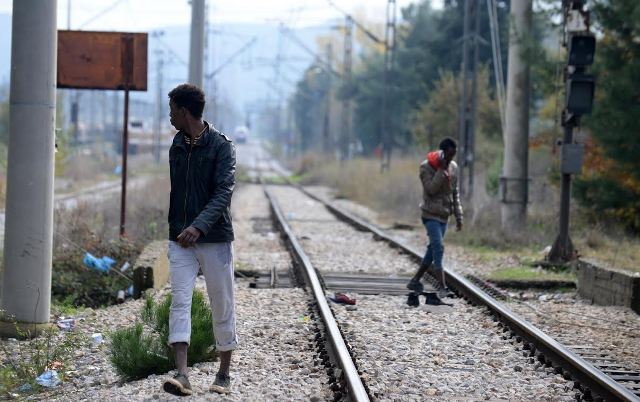 Skopje, 13 July 2015/Independent Balkan News Agency
By Naser Pajaziti
Accommodation centers for foreigners and asylum seekers in FYROM are almost empty, because they don't want to spend any moment in this country. Only 20 migrants have been registered and are staying at the Asylum Seekers' center in the suburbs of Skopje, the Ministry of Interior informs.
The majority of emigrants who come from Syria, Afghanistan, Somalia and other African and Asian countries do not want to stay in FYROM. As soon as they enter the country, they are equipped with a temporary 72 hour stay permit and after this, they head to Serbia, to then travel to Western European destinations.
Spokesman of the Ministry of Interior, Ivo Kotevski declared that around 10 thousand migrants have applied for a temporary stay and they are not interested on applying for asylum.
He has admitted that the situation in asylum seekers' centers is bad and he has appealed for aid by humanitarian organizations.
Accommodation center in Gevgelija
Many tents have been set up in the southern city of Gevgelija, in the border with Greece, to receive migrants.
Their reception is usually made by international humanitarian organizations such as UNHCR, International Red Cross and other humanitarian organizations. Every day, this center receives over 500 emigrants and after a short rest, they continue their journey.
Based on the new law, it's easier for migrants to move in FYROM, compared to a few months ago when they traveled through mountains and through other dangerous areas. Irena L, an activist of the Red Cross, told IBNA that refugees can now use the public transport, hotels or other public services. "Within 72 hours, they have the right to use all these facilities. The majority of them leave and do not want to stay in our country, but they are grateful for this reception", Irena says.
Refugees are being detained to testify against traffickers
Jasmin Redzepi from "Legis" NGO, says that there's a small number of refugees being held in accommodation centers and that they are under investigation along with the traffickers that have enabled their journey.
"It's been several months that they're being detained. Due to the ongoing trials, these refugees are being detained as witnesses against traffickers. But we demand for them to be released", Jasmin Redzepi declared.
"Legis" also appeals for Public Prosecution to speed up investigations and procedures in order not to detain refugees for a long time in the quality of witnesses.
Foreign media on the refugee crisis
International media continue to consider the country as a transit point for foreign refugees. Tens of teams of foreign journalists are staying in the southern and northern border of the country to talk to refugees.
British media report that Macedonian police officers use violence against refugees on the border with Greece.
According to British newspaper "Independent", foreign Syrian refugees have claimed that they have been beaten by Macedonian police on the Greek border.
Four young man said that they were beaten by Macedonian police on the border and were not allowed to enter the country. /ibna/