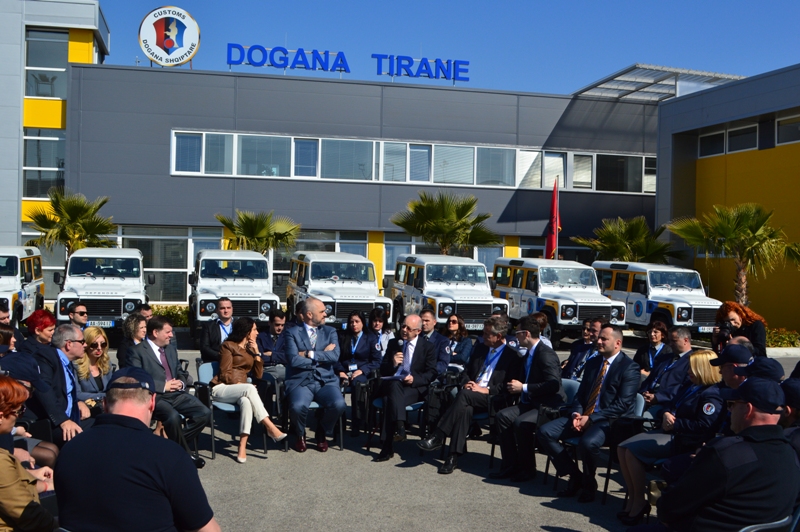 Tirana, March 17, 2014/Independent Balkan News Agency
An international company has started work today (17.03) in Albania at the Albanian Customs in an effort to reduce tax evasion, smuggling and other abuses which have often taken place for 23 years in the customs of the country.
Authorities say that "Crown Agents" company will offer specialized assistance to the General Directorate of Customs in accordance to the objective of the Ministry of Finance.
Minister of Finance, Shkelqim Cani said in today's ceremony (photo) that the effective actions which are expected to be seen on field are not only expected to reduce evasion, but also increase security for business and eliminate dishonest competition.
"With Crown Agents, we guarantee that we will have close cooperation of customs with experts of this company and through this cooperation, we not only expect progress with tangible results in revenues, but also a good ethic of work and an improvement of the image of customs officials", says Mr. Cani.
"Our aim is innovative reformation of fiscal institutions, a good and safer business climate and an honest and responsible administration with a clear aim of increasing budget revenues", added he.
Meanwhile, the representative of "Crown Agents" says that state revenues will be aimed to be increased through the inspections that will be made.
General Directress of Albanian Customs, Elisa Spiropali told IBNA that in the first half of the year, Albanian Customs are expected to collect 120 million USD more than the same period last year.
The opposition and several media in Albania have declared that the company that was hired to work in the Albanian Customs had close ties with the former British premier, Tony Blair, who is an advisor to prime minister Edi Rama. The opposition has accused the government of making an abusive contract at the detriment of the state budget. The government has considered these accusations as unacceptable. /ibna/