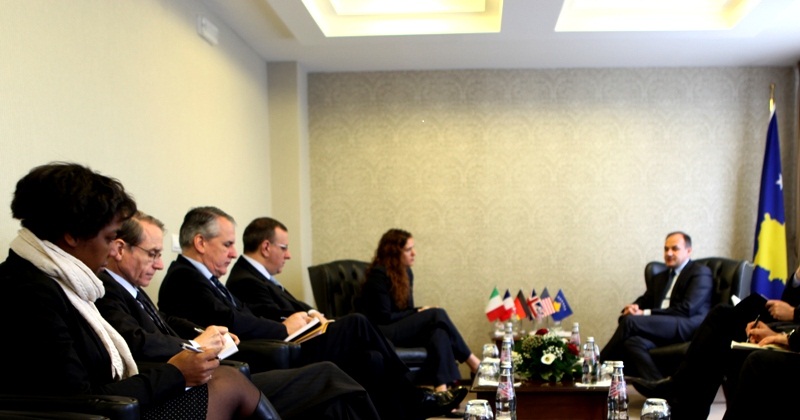 Pristina, March 5, 2014/Independent Balkan News Agency
By Elton Tota
Minister of Foreign Affairs of Kosovo, Enver Hoxhaj has received on Wednesday (05.03) in a joint meeting the ambassadors of France, Germany, Italy, United Kingdom and United States to Kosovo. During this meeting, minister Hoxhaj has briefed them on the decision of the government to approve the recommendations and the analysis of the process of Strategic Review of the Security Sector.
The decisions that related to the creation of the Armed Forces and Ministry of Defence, were taken on Monday and on Tuesday, they were confirmed by the government,
More: Kosovo announces the creation of the Ministry of Defence and Armed Forces
Minister Hoxhaj said that this process is comprehensive, transparent and involved all government institutions, with the scope to strengthen Kosovo's security institutions in compliance with the Euro Atlantic principles and the best international practices.
"The importance of this process is the transformation of the Ministry for Security Forces to the Ministry of Defence and Security Forces to Armed Forces of the Republic of Kosovo, in compliance with the security needs of the country. This process also has three main elements which consist on taking responsibilities for our security and that of our country, the continuation of Euro Atlantic integration of the security structures of the Republic of Kosovo and to secure peace and stability in Kosovo and the region", declared minister Enver Hoxhaj during the meeting with the five ambassadors.
Diplomatic centers of these countries didn't launch any press statements on the details of the meeting.
A debate has been recently triggered in relation to the creation of Armed Forces. The decision followed Belgrade's reaction. Prime minister Ivica Dacic expressed his reservations on this decision a day ago.
Dacic: Kosovo's Army doesn't dare to be present in the north
More: Kosovo's Army, an electoral promise or a reality?
European Parliament demands more transparency from EULEX mission
EU requires Resolution 1244 to act as the basis for next EULEX mission