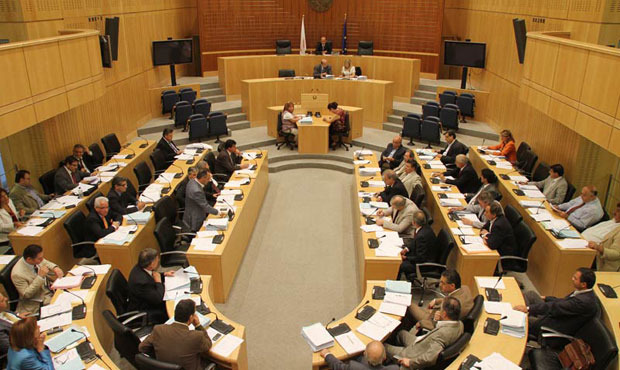 By Kyriacos Kyriacou – Nicosia
The House of Representatives of Cyprus approved during a marathon extraordinary plenary session the controversial bill on foreclosures together with a series of amendments tabled by the political parties.
The bill is a precondition for the disbursement of the next tranche of the island`s €10 billion financial assistance programme. The bill was approved with 47 votes in favor, 7 against and one abstention.
The approval or not of the disbursement of the next tranche of the Cypriot programme, is expected to be decided by a Eurogroup meeting next Friday.
President Nicos Anastasiades said on Sunday that he will hold talks with European leaders and officials over the content of the legislative documents on foreclosures adopted by the majority of the House of Representatives. He also promised to review the amendments adopted by MPs "very seriously".
He was replying to questions on the sidelines of the inauguration of a park in Germasogia, at the coastal city of Limassol, in honour of the 13 people who perished as a result of a deadly blast at "Evaggelos Florakis" naval base, near Mari village, on July 11, 2011.
Eurogroup not yet briefed
The Eurogroup Working Group is not yet aware of the content of the foreclosures law, a high ranking Eurozone official said Monday in Brussels.
Asked if the disbursement of Cyprus` next tranche of €350 million by the European Stability Mechanism (ESM) would be decided at the meeting of Eurozone finance ministers to be held this Friday in Milan, the official linked the decision to the content of the law passed by the House.
He recalled that Cyprus had to meet some conditions in order to receive the next tranche, adding that they have not yet received the text of the law from the Cypriot authorities and therefore they can not say if it fulfills the expectations of the Troika.
"If we do not get the law, a decision cannot be made, but if we get the information today or tomorrow and see that that the conditions of the Agreement are met, then the Eurogroup Working Group will suggest to the ministers the disbursement of the next tranche of 350 million euro. The other 86 million euros concern the participation of the IMF", he added.
According to the same official, ministers will be briefed on the course of the Cyprus program and the results of the fifth assessment on Friday in Milan.