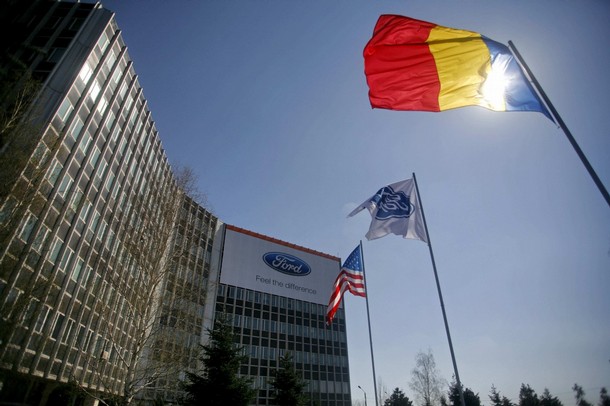 Bucharest, April 4, 2015/ Independent Balkan News Agency
By Daniel Stroe
The Ford plant in Craiova, SW Romania, will not be able to raise its production at full capacity due to lack of proper transport infrastructure in the country, the former sales general manager of Ford Romania, Zoltan Brassai, said in a press conference before leaving for a new position with Ford Europe.
"If we produced at full capacity in Craiova, then 240 trucks would go in and then out transporting cars on a daily basis. It can't be done, either by roads or railways. If we load cars on a train, the first bridge would crumble. If we wanted to produce at the factory's capacity, because we invested a billion Euros in it, we can't do that because there is no infrastructure, either for suppliers to bring the parts, either to transport cars of which 96-98 % are exported. We can't do that because it is not up to us. It would be a beautiful expectation that Ford builds highways and renovate railways, but this is impossible", Brassai, appointed Brand Director Large Cars at Ford Europe, said in a conference with his replacement, Italian Valerio Brenciaglia, as quoted by state news wire Agerpres.
The Ford plant in Craiova has a production capacity of 300,000 cars and 3,500,000 engines per year and reaching this production level equals to a truck leaving the industrial compound every five minutes in average. Currently, Ford produces below 70,000 cars per year and employs about 2,700 people after about 500 voluntarily left.
Brassai also explained that railway transport is 50 Euros per car more expensive than the naval one while road transport raises costs per unit by 80-100 Euros. The average speed of a truck on the Romanian roads is 30 km per hour, but the biggest problem is that suppliers have to deliver parts to the plant one day before the deadline so they do not undergo delays, hence bigger costs for them. Ford has 45 suppliers in Romania, eight of them integrated in the platform in Craiova.
He also gave the example of how Portuguese authorities mobilized after Ford opened the production plant at Palmela when 300 km of highways were built in a single year. The slowed response Romanian authorities give to the needs of large foreign investors in terms of infrastructure development is totally incomprehensible for the management of Ford Europe, Brassai also stressed.
Renault, the other car maker in Romania, has also been pushing for a wider highway network to speed transports and exports. Last year, former President Traian Basescu warned PM Victor Ponta Renault could relocate production at the plant in Mioveni to Tanger in Morocco.
Romania inaugurated only 50 kilometers of highway in 2014, half the length opened in 2013. Speaking early January, Transport minister Ioan Rus argued Romania will have 250 new kilometers of highway by the end of 2016 which will add to the current approximately 700 kilometers already in use. About 50 kilometers are expected to be inaugurated this year.