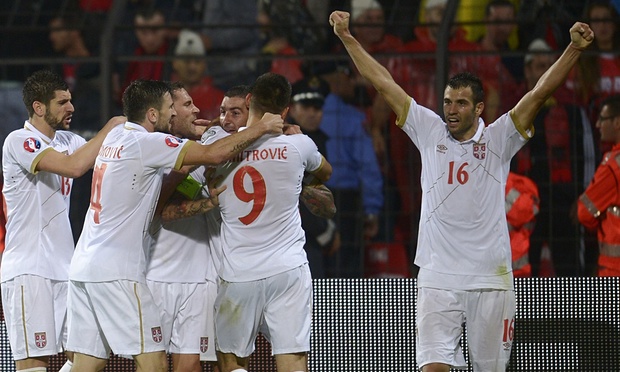 Belgrade, October 9, 2015/ Independent Balkan News Agency
By Milos Mitrovic
Serbian Prime Minister Aleksandar Vucic has praised national football team and congratulated them win against Albania at the qualifier for Euro 2016 in Elbasan, Albania, on Thursday evening. "We are proud of your win", Vucic told footballers at the reception in his cabinet today.
The match did not had any importance for Serbia considering Euro 2016 – national team has previously lost chances to qualify. But due to the incidents at the first match in Belgrade a year ago, as well as political instability between Serbia and Albania it was followed by high tensions.
"The only thing Serbia expected was that you would fight for its flag – and you did it. You have united Serbia without any calculations, you did not use any non-sport methods, therefore – I am really satisfy and happy because of your win", Vucic told footballers.
"Last night whole Serbia was united, we were all proud and joyful… You have brought huge joy to Serbia, Republic of Srpska and especially Kosovo and Metohija, to all the citizens of the Republic of Serbia".
Vucic said that he expects national team would qualify for the world championship in Russia in 2018. He added he expects Russian support to Serbian team. Serbian companies have been engaged in building and reconstruction of stadiums in Russia, premier explained.
PM called citizens to attend match Serbia-Portugal in Belgrade on Sunday.
Serbian tabloids have euphorically commented win against Albania on their front pages. "Serbia crushes Albania", Kurir stated, while Blic called win "sweet revenge". According to Informer, Serbian footballers are "national heroes" and Alo! recommends Albanians to cry.