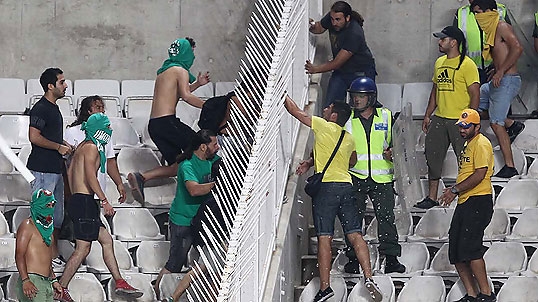 By Christos Meliopoulos – Nicosia
In a football-crazy country like Cyprus the hype over the forthcoming Cup final between Limassol rivals AEL and Apollon gets all the more exciting. But unfortunately the build up has to take into account the shadow of violence that has marred the sport in the island these last few years.
The public broadcaster's news bulletin on Monday, two days before the match, featured the police's chief inspection of the Tsireio Stadium, where the Limassol derby will take place, very high. Police have been criticised in the past over the failure to prevent incidents of hooliganism and over how they deal with them; but as it always is the case, if responsibility has come down to the order implementation force, it means that the ones directly involved in football have not done their homework.
A general sense of complacency, according to commentators, seems until now to have shrouded individual concerned voices, pointing to a culture of violence that has crept up the body of Cypriot football, threatening to kill it.
Violence during and after games in April (Omonia-APOEL, Anorthosis-AEK) immediately prompted the new government, that had just taken over, to look into stricter measures. They concentrated in the need for even tighter security in football grounds, controlling fans and what they bring with them into the stadium and stronger action against wrongdoers. The use of stewards is to be introduced with a big delay next year.
A problem like hooliganism requires a comprehensive approach, meaning that the policing and the security aspect of it is just that, one aspect. Justice needs to be dispensed much quicker and above all football clubs should not have any misgivings whatsoever to ban hooligans. The national federation needs to start waving the threat of heavy fines, matches without fans, point deductions and even elimination from Europe – and follow through the threats if there is no compliance.
Justice Minister Ionas Nicolaou rightly said that "hooliganism and violence do not reflect the Cypriot culture," but in the era of fanaticism it's hard not to have hooligans, may they be football, politics or religion ones.
The Cypriot football should do everything in its power to protect what is – or at least was – the most genuine form of social excitement and amicable rivalry. The Limassol Cup final deserves to be nothing less than a celebration.