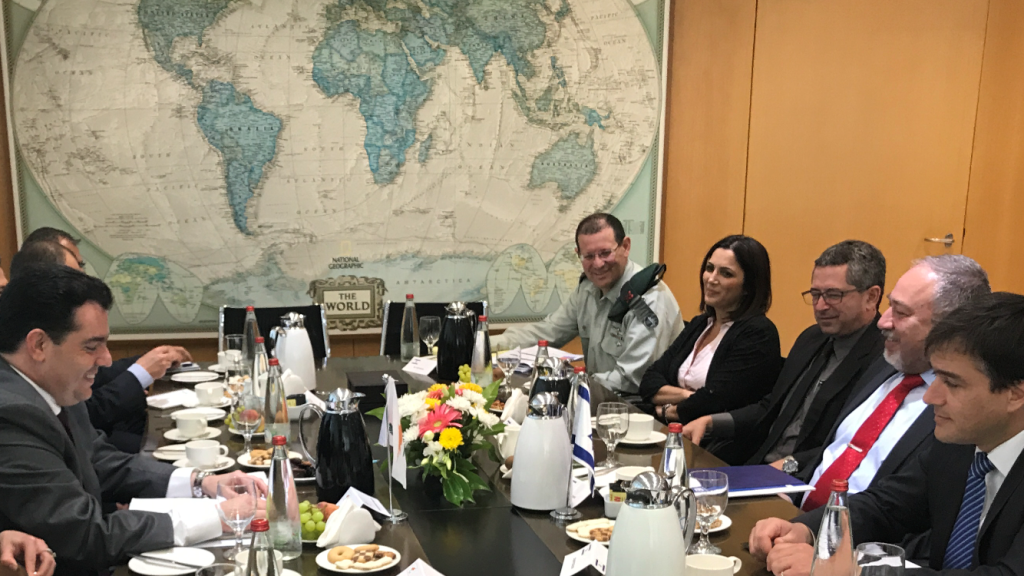 The Minister of Defence, Christoforos Fokaides, has concluded successful official visit to Tel Aviv, Israel, where he held bilateral contacts with his Israeli counterpart, Avigdor Liberman, with the participation of delegations of the two ministries.
Bilateral relations and ways to further deepen cooperation on issues related to maritime safety, cyber-security, emergency crisis management and special operations, were in the agenda of discussion between the two officials.
In this context, Ministers Fokaides and Liberman have reviewed the implementation of the Program of Bilateral Military Cooperation and discussed prospects for further upgrade. Ministers have also exchanged views on the latest developments on regional security environment, whilst issues of maritime and energy security, and ways to counter the new forms of asymmetric threats, particularly terrorism and cyber-threats, were also a part of the discussions. Fokaides briefed Minister Liberman on the Cyprus problem, too.
During the meeting, it was a mutual recognition that cooperation between Cyprus and Israel in the field of defense has produced tangible results that are mutually beneficial for the two countries. Moreover, it was commonly agreed that cooperation between the countries should be reinforced through concrete actions, in order for activities that counter the new threats in the unstable region of the Eastern Mediterranean to be further coordinated. In this framework, the credible role Cyprus enjoys through the maintaining of excellent relations with the common neighborhood countries as a contributor to security and stability in the region, it was also noted. In this respect, Minister Fokaides has expressed appreciation to his counterpart for his personal contribution to the development of the Cyprus-Israel relations and announced the accreditation of a Military Attaché in Israel before the end of the year.
This is the second visit of Minister Fokaides to Israel this year and falls within a series of visits in the countries of the Eastern Mediterranean. It is highlighted that, recently, Fokaides held contacts with his Egyptian counterpart in Cairo. Next week, Defence Minister Fokaides will visit Jordan./IBNA
Photo: pio.gov.cy