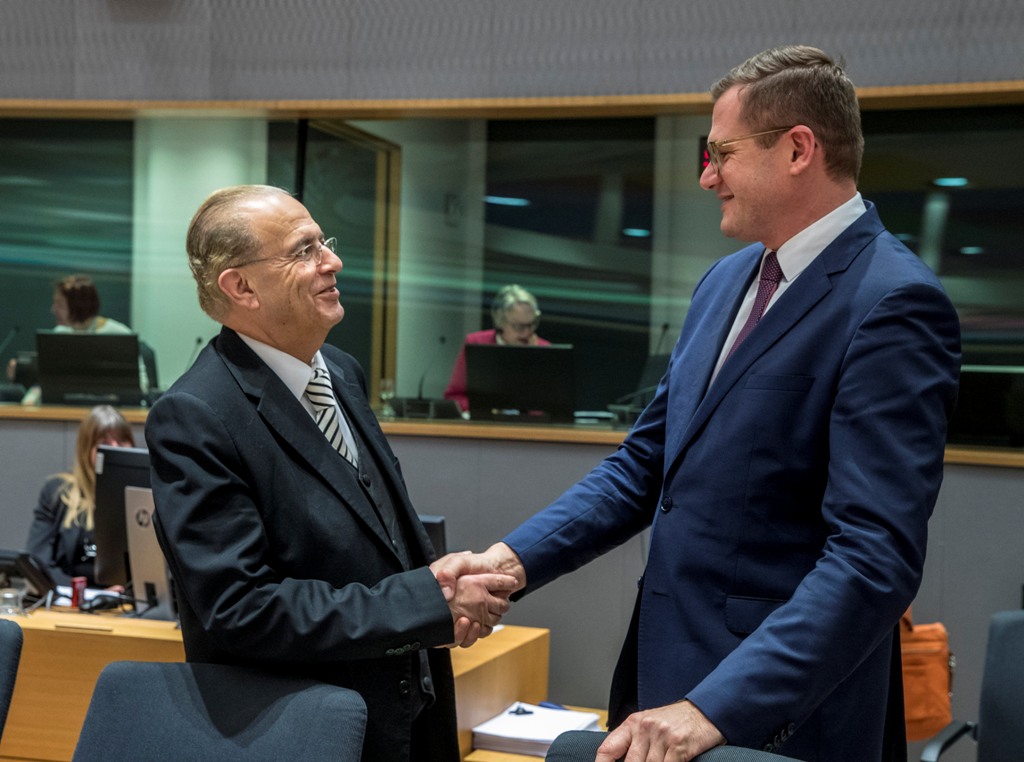 In a cordial and emotional climate said their goodbyes to the Foreign Minister of Republic of Cyprus the FM of the EU Member States and the EU High Representative for Foreign Affairs and Security Policy, Federica Mongherini. Sometime after the recent Presidential elections in Cyprus, Kasoulides had announced his retirement from politics.
Speaking to the assembly, Mogherini referred to the excellent cooperation that characterizes her long relationship with Kasoulides, both from her position as Italian foreign minister and later from the position of High Representative. She made specially notice to the wisdom of his analysis and the decisive spirit that characterized his interventions, stressing that under his political guidance, Cyprus's foreign policy had a totally European approach. The Minister of Foreign Affairs of Luxembourg, Jean Asselborn, being the most senior of the EU foreign ministers expressed on behalf of everyone present the warmest thanks to Ioannis Kasoulides.
The Council's work focused on the latest developments in relation to the Middle East Peace Process, with foreign ministers exchanging views on ways to revitalize the peace process. The discussion also prepared the lunch of the "28" with the Secretary-General of the Arab League (SAK), Ahmed Aboul Gheit, and the foreign ministers who are members of the DCI Follow-up Committee (Jordan as President, Egypt, Saudi Arabia, Morocco, United Arab Emirates, Palestine).
Speaking during the talks, the Foreign Minister welcomed, among other things, the High Representative's initiative to hold the current exchange of views with the members of the SCAC Follow-up Committee. Noting that the EU's stance remains in favor of a two-state solution, Kasoulides stressed the importance of prior consultations between the US and the EU before any initiatives by the US are taken. In this direction, the contribution of moderate Arab states in the framework of the Arab Peace Initiative is equally important, the foreign minister stressed.
The Council of Foreign Ministers also addressed the situation in Moldova. In his speech, the foreign minister referred to his trip to Moldova where, he said, he identified the many challenges the country is faced with. We consider Moldova a European country and our action should aim to benefit the people of Moldova, he stressed. In conclusion, the foreign minister stressed the need to ensure the best possible balance between the principle of conditionality and the incentives the EU provides to Moldova.
Tomorrow, Tuesday, the Kasoulides will take part in the General Affairs Council of the EU, which will focus on the preparation of the Spring European Council to be held on 22-23 March, as well as the works on Brexit (27)./IBNA
Photo: pio.gov.cy