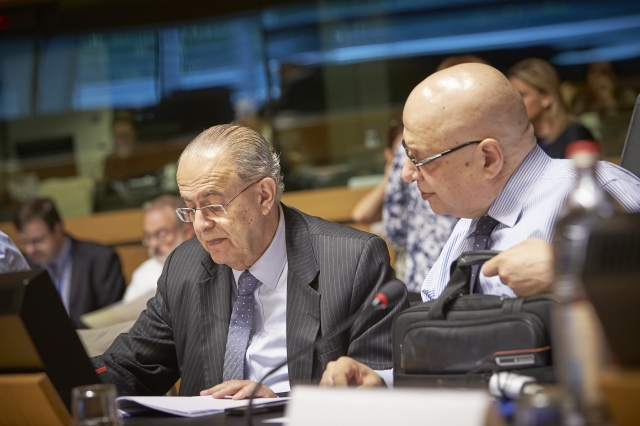 The Minister of Foreign Affairs, Ioannis Kasoulides, participated in the EU Foreign Affairs Council, which was held on Monday, October 16, in Luxembourg. EU Foreign Affairs Ministers discussed the latest developments in Iran, North Korea and Turkey, and the EU policy on human rights, in the presence of the European Union's Special Representative for Human Rights, Stavros Lambrinidis.
In an intervention on the latest developments in Iran and the implementation of the nuclear agreement, JCPOA, Minister Kasoulides argued that it is essential for all parties involved to meet their obligations, whilst he stressed the importance of the role that the EU could play, particularly in the case that the United States decide to restore sanctions against Iran.
Over lunch, Foreign Affairs Ministers addressed the situation in Turkey and country's regional role. On his part, Minister Kasoulides, during his intervention, stressed that the maintenance of Turkish military forces in Syria, Iraq, Somalia and Qatar serve Turkey's regional political agenda rather than to maintain or restore the stability in these countries, as Ankara claims. Any reward for Turkey should be avoided, said the Cypriot Minister, and noted, as an example, the false messages that an agreement on the upgrading of the Customs Union with Turkey can sent not only to Turkey's leadership but also to the truly democratic forces of the Turkish society.
On a discussion over the situation in North Korea, Minister Kasoulides stressed that Cyprus strongly condemns Pyongyang's efforts at developing its nuclear power sector; efforts that are a rising threat to international peace and stability. Furthermore, Minister noted that the EU autonomous restrictive measures should continue to complement and reinforce the sanctions imposed by UN Security Council against North Korea, affecting Democratic People's Republic of Korea's ability to fund its nuclear program and ballistic missile programs.
The FM participated, also, in a discussion regarding the EU policy on human rights and informed the Council on Turkey's efforts towards the islamization of the occupied areas of the Republic of Cyprus through education, control of religion and sports, and through the restrictions imposed on the religious freedoms of the Greek Cypriots.
Lastly, the Council adopted conclusions on the EU Strategy on Afghanistan, the mid-term review of the action plan on human rights and democracy, ALTHEA in Bosnia and Herzegovina, EUAM program in Iraq and the situation in Myanmar./IBNA