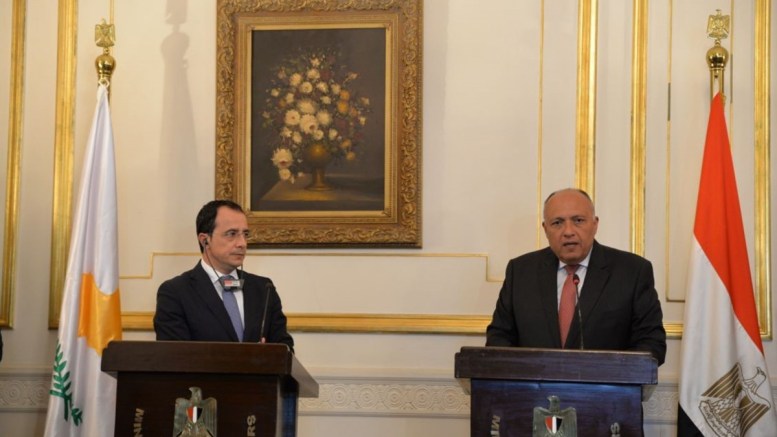 Cypriot Foreign Minister, Nicos Christodoulides, completed today his working visit to Egypt, where he had a series of meetings with officials in the country. It is noted that it was the first visit of a Foreign Minister to Egypt after the re-election of President Abdel Fattah el-Sisi.
During his visit, the Foreign Minister was received by President Sisi, while he went into extensive consultations with his counterpart, Foreign Minister of the country, Sameh Shoukry. In addition, the Foreign Minister had a meeting with the Egyptian Prime Minister, Sherif Ismail.
During the meetings, there was a review of the  bilateral relations of the two countries, where practical ways of substantially upgrading them were discussed, in addition to the promotion of a significant number of transnational agreements covering various sectors, such as Energy, Trade, Education and Tourism. In this context, the strategic relationship between Cyprus and Egypt was reaffirmed, as well as its importance in addressing, among other things, the challenges facing the two countries, but also the achievement of mutually beneficial goals.
The point of reference was the debate on energy cooperation between the two countries as well as the next steps, including the planning of a submarine pipeline for the transport of natural gas from the Republic of Cyprus to Egypt. There was also an exchange of views and coordination with regard to the tripartite cooperation between Cyprus, Egypt and Greece, which is a model of exemplary regional cooperation with tangible positive results for the Eastern Mediterranean region and beyond.
The Foreign Minister also had the opportunity to briefly inform his interlocutors about Turkish provocation within the Cypriot EEZ. In this context, it was noted that any acts and behaviours that violate international law undermine the stability and security of the region, as well as the interests of all states and the prospects for cooperation between them.
In addition to the latest developments on the Cyprus issue, the current situation and prospects for EU-Egypt relations, as well as current major regional developments, with special reference to Syria and the Palestinian, were also discussed.
Christodoulides thanked Egypt for its long-standing support for Cyprus issues, while the Egyptian side welcomed the role played by the Republic of Cyprus within the EU in the issues that concern the Cairo and Brussels relations, as well as for the EU policy in the region.
The Foreign Minister returns in Cyprus this afternoon./IBNA