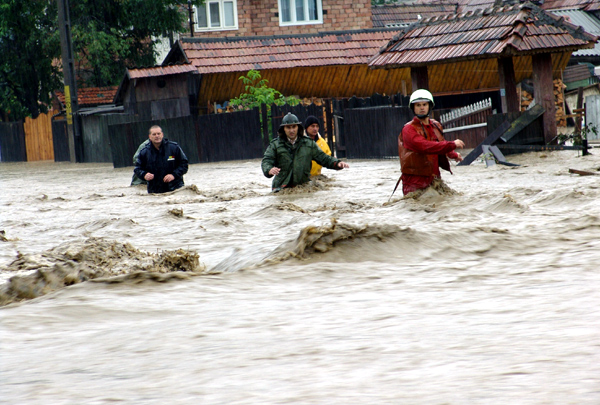 Review by Christos T. Panagopoulos –
Over 60 litres of rainwater fell in Pitesti, within just three hours. Several inhabitants were rescued by boats. Dozens of cars were damaged by water in the streets of the town.
Heavy rain hit southern Romania yesterday, with the most affected area being the town of Pitesti. According to realitatea.net, water was more than 2 metres high in some areas of the town, as the amount of rainwater exceeded 60 liters/metre within just 3 hours. Half of the town was inundated because the sewer system could not deal with the huge quantities of precipitations.
There were areas where torrents washed cars dozens of metres down the street. Almost half of the town was left without heating and hot water by the rain, which flooded the facilities of CET Gavana, forcing firefighters to bring pumps and evacuate the water from the basement of the building. The same situation was reported in a number of schools and kindergartens.
"At the CET, water rushed in the basement and covered the pumps; we will see today (yesterday) why the sewer did not cope with it, but it is for sure that we were hit by a downpour. We had a similar situation 10 years ago, in the same areas, but the sewer system was modernised meanwhile; however, I repeat, there were more than 60 litres per square metre in a very short time," mayor Tudor Pendiuc said.
Authorities speak of a real deluge, unheard of for more than a decade. "We responded with 11 special vehicles, four trucks, 12 pumps, a dinghy and over 100 firefighters. There was a heavy rain with 60 litres per square metre, which fell in the very short time of three hours. At Buzoiesti, we rescued a 16 year old boy who was alone at home, he was thrown a rope and firefighters took him aboard. Two more were saved by boat. They are disabled people who were transported to hospital, for monitoring.
The worst problems were reported on Garlei Street of the Gavana district of Pitesti, a low area where water accumulated. At Buzoiesti and Draganu, trees fell across the street and we removed them," the spokeswoman of the Arges Emergency Situations Inspectorate (ISU), Madalina Epure informed. The two people evacuated by dinghy were taken to the Pitesti Emergency Hospital, where they are under monitoring with light hypothermia. "They are a 78 y.o. woman and a 36 y.o. man, mother and son, who were evacuated and taken to hospital, they are in stable condition and had a light hypothermia, but they were stabilised and were placed under medical monitoring," the coordinator of SMURD Pitesti, Daniel Marius Pascu informed.
Arges County prefect Cristian Soare announced that, according to a preliminary evaluation, 15 houses were inundated in Pitesti. "Now we are rescuing one person blocked in the car, at Micesti, while firefighters are removing water from the basements of buildings," Soare mentioned.
Problems were also reported in several communes and localities thorughout Arges County, including Curtea de Arges, Babana commune, where a road was submerged and a village is isolated. Local children could not go to school yesterday and dozens of houses were flooded by the Cotnana Creek, a tributary of Arges River.
Flood danger in six counties
Bad news do not stop here. Hydrological services yesterday issued a yellow code flood warning for the counties of Hunedoara, Arad, Alba, Valcea, Gorj and Arges, in the basins of Crisul Alb, Aries, Olt and Arges, with torrents that might go beyond attention levels.
Heavy rain during the last 24 hours also made authorities issue a code yellow code warning on the rivers from the upper basins of Crisul Alb (Hunedoara and Arad counties) and Aries (Alba County). The warning issued for these rivers was in effect until yesterday at 8.00 PM. Bucharest and 20 counties were, until yesterday at noon, under a code yellow rain and wind warning.

Difficult traffic and collisions in Bucharest, caused by rain
The rain that hit the Capital Wednesday night caused problems in traffic, which became difficult yesterday morning, with car collisions being reported in several areas of the city. According to Traffic Police spokesman Andrei Codau, the heaviest traffic was in the central areas, where police had to deploy an increased number of squads. In Baneasa, an speeding automobile skidded, hit the fence installed between lanes and overturned, but the driver escaped without injuries.
Source: Nine o'clock