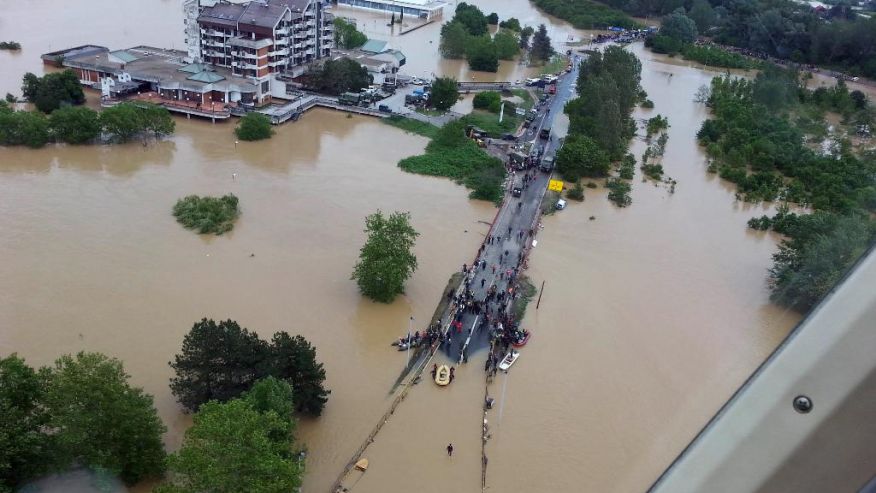 By Milos Mitrovic – Belgrade
More than 300 persons are missing after floods in Serbia started last week, the website nestali.rs announced today. After the disaster has left at least 20 people dead, Serbian government has declared three day mourning starting from tomorrow.
Prime minister Aleksandar Vucic said today that the scale of catastrophe  is ten times larger in Serbia than in the other countries in the region, expressing his hope this would not be reflected in the increase of casualties. In Obrenovac, 40 kilometers south-west from Belgrade, 14 bodies have been found so far, Vucic said. The town is the most seriously affected with the floods, with the most of inhabitants having been evacuated.
Prime Minister specified that half of them have died from natural causes. He said that the state of emergency in a national level will be stop on the weekend, but it will remain in force in the severely affected areas. Vucic warned that the danger is not over. He said that the damage caused by the floods will exceed 0.64 percent of the national GDP, which is the condition for a country to receive relief from the EU solidarity fund. After a government meeting, ministers said the situation is starting to stabilize.
Transport minister Zorana Mihajlovic said, however, that 3,000 kilometers of roads are destroyed and the Belgrade – Bar (Montenegro) railway is out of function.
According to Interior Ministry, a total of 30,873 people have so far been evacuated, 13, 603 people only from Obrenovac. A total of 1,250 homesteads and over 3,500 residents of the Kolubara District, western Serbia, remain in danger.
Serbia has received relief from all parts of the world since the disaster started last week.  At this moment, the most needed are drainage pumps, energy minister Aleksandar Antic said referring to the Nikola Tesla power plant near Obrenovac.