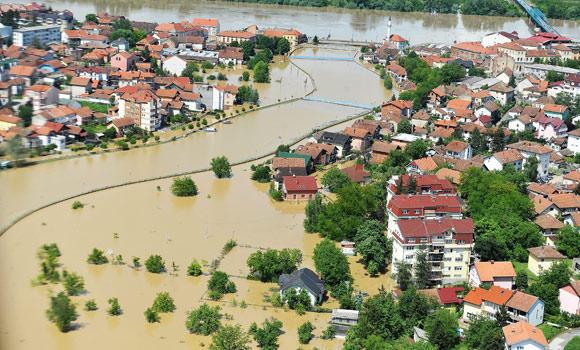 Sarajevo, February 23, 2016/Independent Balkan News Agency
By Mladen Dragojlovic
The programme of help to BiH citizens affected by catastrophic floods which EU and other agencies implemented in the entire country, finished successfully after almost two years ago.
During the duration of the programme, more than 610,000 people in the flood-affected communities in BiH received some kind of help. The final conference was held on Monday in Sarajevo.
As it was announced from EU Delegation in BiH, this Programme represents the first part of the EU pledges at the Donor conference in Brussels in July 2014 directed at the immediate recovery in BiH. It was launched in August 2014 to restore normal living conditions in the local communities and ensure that the assistance reaches the most vulnerable ones in the floods aftermath, as identified by the Recovery Needs Assessment.
"We have helped rehabilitate some 4,400 houses and 120 public facilities, including schools and hospitals, but also some enterprises have benefited and as a result we have been able to save and generate 5,600 jobs in the country", said Ambassador Lars-Gunnar Wigemark, Head of the EU Delegation and EU Special Representative in BiH.
He expressed satisfaction that the EU was able to help the people at the local level in a direct and concrete way during the emergency circumstances. Wigemark added that in the future the EU intends to help BiH in prevention of natural disasters.
UN Resident Coordinator and UNDP Resident Representative in BiH, Sezin Sinanoglu, emphasised the importance of the prompt, coordinated and quality response in the floods aftermath in May 2014.
"It is a great honour to have been able to react quickly and to help over 610,000 people. Also, the school year started without any or with little delay and within just 100 days we have helped to rebuild homes for over 1,000 of the most vulnerable families", Sinanoglu said.
The value of the overall Programme was 43.52 million euros, out of which 42.24 million euros was provided by the EU. It was implemented by the United Nations Development Programme (UNDP) in cooperation with the United Nations Children's Fund (UNICEF) and the International Organisation for Migration (IOM).
The conference was attended by the representatives of all levels of BiH authorities and the end beneficiaries of the Programme. The beneficiaries provided their personal testimonials to showcase how the assistance they received from the European Union has helped them to recover from the effects of the May 2014 floods.