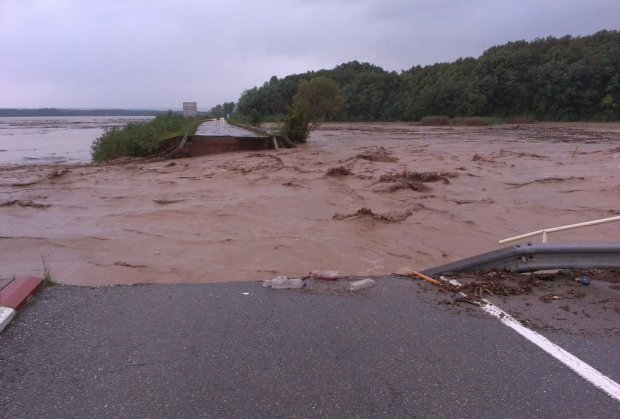 By Milos Mitrovic – Belgrade
More than 300 persons have been evacuated from the flooded areas in the east of Serbia. The most affected is the Grabovica village, near the Danube river. Pontoon bridge is to be provided later today, officials said. The residents of the nearby Tekija expect food and water supplies; special pumps would be also delivered.
One casualty has been reported. An elderly woman died, but cause of death has not been officially confirmed, according to media accounts.
The Ministry for Youth and Sports declared that 100 people have been accommodated in sports center in Kladovo. The residents of Tekija begun to evacuate themselves on their own after the hill started to approach to the town, Radio Television of Serbia (RTS) reported. The streets in this town are under the water.
National electricity producer and supplier "Elektroprivreda Srbije" announced that hydro-power plant "Djerdap 2" was also affected with water and mud have came in the system. The emergency situation has been declared in the municipalities Kladovo, Majdanpek and Negotin due to floods and heavy raining. For 30 hours some 150 liters of rain has fell per square meter. One bridge has been destroyed and Kladovo is cut-off from the rest of the country because roads are flooded.
Gendarmes, helicopters and Mountain Rescue Service are deployed to evacuate the people. Predrag Maric, the head of government's unit for emergency situations, told RTS that 21 pumps would be used adding that "water level decrease".
Maric has praised the officials of Kladovo municipality for good organization in evacuating the residents by boats as well as for providing lodging and food supplies. He added, however, that some locals have refused to be evacuated and that some have been evacuated forcefully.
For some time, dozen of children have been trapped in the primary school in Boljetin village. According to RTS correspondent, "intensive efforts" have been done in order copper mine in Majdanpek to continue its production. The production was stopped on Monday over the concerns that the water might came in the facilities.
In May, the floods affected some 1.6 million people mostly in the western part of the country and resulted in 51 casualties, of which 23 were due to drowning. Around 32,000 people were evacuated from their homes.
Photo: kurir-info.rs