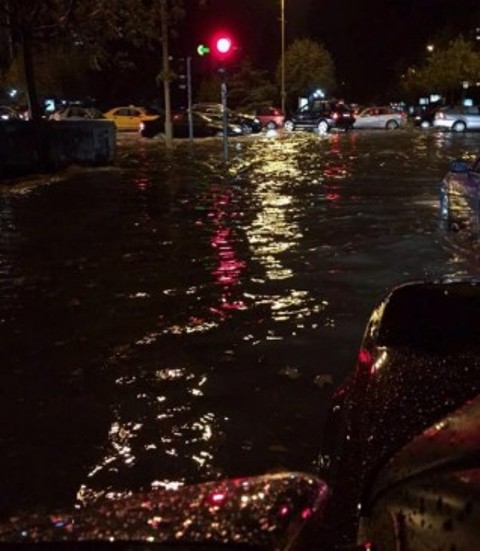 Tirana, November 19, 2014/Independent Balkan News Agency
Three people have died as a result of the heavy floods and bad weather that affected Albania last evening. A father and his daughter lost their life in Lac, as the car that they were traveling in was taken by the water stream.
Gjon Kola was taken out of his car lifeless, while several hours after midnight, the lifeless body of his 23 year old daughter, Dorina Kola, was also found.
The second victim was found around two kilometers from the place where the car was taken by the water.
Meanwhile, the third victim is a 22 year old young man identified as Liman Balluku. The young man died in the Skuraj village in Kurbin, as a result of the collapse of a bridge, during the time that he was traveling on his motorbike along with another young man. The body of the young man, who fell in the water, has not yet been found, while search continues.
Emergencies, coordinating group gathers at the Council of Ministers
The coordinating group which is constantly following the situation, was gathered by deputy PM, Niko Peleshi following the situation caused by the heavy rain in several areas of the country.
The group is comprised of the Minister of Interior, Minister of Energy and Industry, Minister of Defence, Minister of Agriculture and Minister of Health.
The Minister of Agriculture, Edmond Panariti has been close to the areas affected by the rain and following the situation on field. Armed forces have also come to the aid of the civil emergency headquarters created in every district. The coordinating group is monitoring hour after hour the information coming from the civil emergencies headquarters and assures the citizens that all necessary measures have been taken to face eventual events.
MoI informs on the situation in the districts
Ministry of Interior informs that it's closely following the current situation due to the heavy rain affecting most of the country and that it's coordinating the measures taken to avoid serious events which claim people's lives. Minister of Interior, Saimir Tahiri has ordered the immediate gathering of civil emergency groups in all districts of the country.
Operational Department at the Ministry of Interior is keeping contacts with responsible institutions and operational forces to normalize the situation.
Special Forces have been mobilized in Tirana, Shkoder and Fier. The situation in the country is being assessed in order to intervene and offer the necessary aid for the people and families in danger. /ibna/