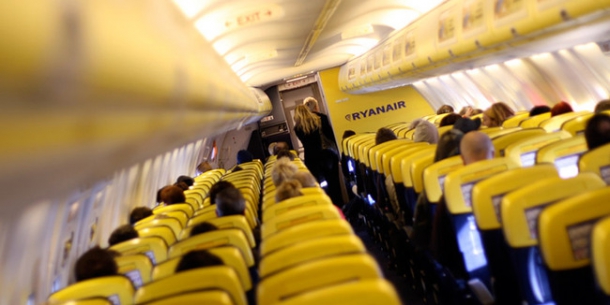 By Kyriacos Kyriacou – Nicosia
167 Passengers, mostly Cypriots, on a recrouted budget Ryanair flight finally landed at Cyprus's Paphos airport around 9:30 last night- a day after its original schedule. The flight from Thessaloniki, Greece was forced to land to Athens on Monday night, wen a passenger tried to gain access to the cockpit. According to witnesses, a 37 year old Greek national started causing panic on board, 20 minutes after takeoff. He stood up in the cabin, started to shout and tried to open one of the plane's doors, holding what appeared to be a screwdriver.
"He stood up in the cabin and started shouting. A guy asked him what he was doing and he replied that all of us were going to die today. An air hostess tried to stop him but he slapped her away. He then rushed to the cockpit door and started pushing buttons on the pad trying to get the door to open. When that failed he started banging on the door and screaming to the pilots to let him in because he was working for the company, " said on the witnesses.
The man was finally subdued by the rest of the cabin crew and five to six passengers. They bound him with extra seat belts and delivered him to the Greek police once the plane landed in Athens.
Almost all the passengers and cabin crew were taken to nearby hotels to spend the night.
Ryanair made arrangements for an extra flight to bring passengers to Paphos on a flight which finally landed at 9pm last night. One of the passengers who had a heart condition was transported to a hospital.
Mental issues
The 37-year old who reportedly has a history of mental instability was arrested by police in Athens and then escorted to a psychiatric clinic where he was admitted. Greek police later confirmed that the man was an airline mechanic but was not employed by Ryanair.
Passengers had a number of complaints to address to the airline, with one of them claiming they were left in the Athens airport with no water or food for three hours. "Nobody was telling us anything. We had no idea of what was going to happen. We got our news from the media instead of the airline."