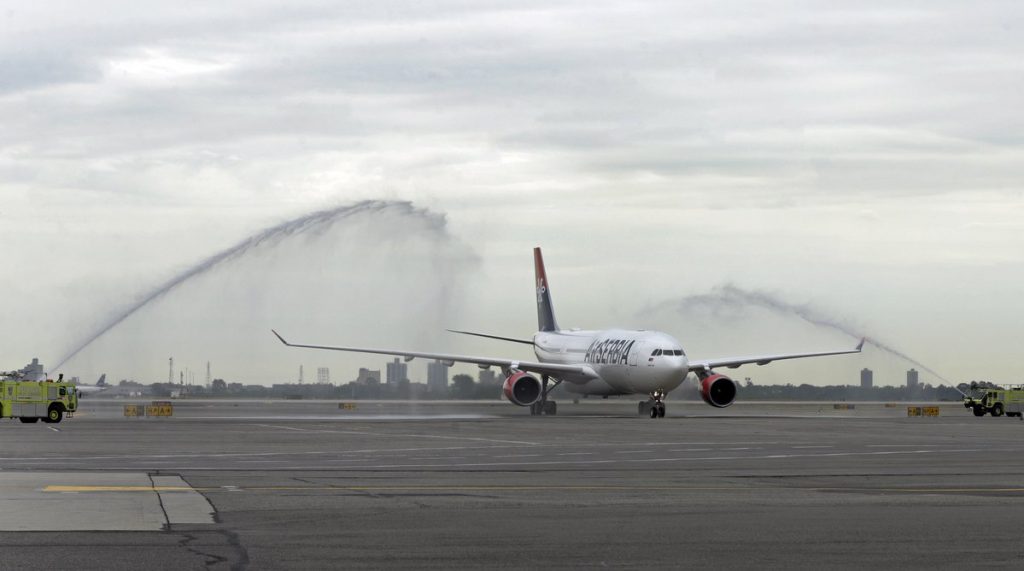 Belgrade, June 24, 2016/ Independent Balkan News Agency
By Milos Mitrovic
Air Serbia's "Airbus A-330" has landed in New York airport "John. F. Kennedy" in a first flight from Belgrade in 25 years. The plane was welcomed by water cannons and electronic billboard which states "Airport J.F. K." welcomes Serbia". The reintroducing Belgrade-New York flights by Air Serbia, majority owned by Etihad is widely regarded as great success for Serbia.
Serbia is now the only out of 11 countries in the region with direct flight to United States.
"We are glad to be here", Serbian Deputy Prime Minister ZoranaMihajlovic said after the arrival. Serbia is now, by air traffic, officially come to New York and we intend to remain here and to continue our development. We are satisfied and happy", Mihajlovic said.
She stressed that reintroduced line "is very important in terms of both politics and economy".
Belgrade mayor Sinisa Mali said that Serbia becomes "world metropolis". "Belgrade becomes the part of the world. Serbia becomes the part of the world and regional leader", Mali said.
Belgrade-New York flights would be conducted five times per week, with numbers YU-500 and YU-501, used by JAT, former Yugoslav airline at the same line until quarter of century ago.
"Airbus A-330" has 254 seats with 18 in business class.
Earlier on Thursday Prime Minister AleksandarVucic said that new line would incite Serbian growth. "This would both Belgrade and our beautiful Serbia make closer to the United States of America… Belgrade can attract both American tourists and those interested in investing", he said at the Belgrade airport before the flight.
"I am certain that this strategic decision was good for Serbia and U.S., for our relations and tourism", American ambassador in Serbia Kyle Scott said.