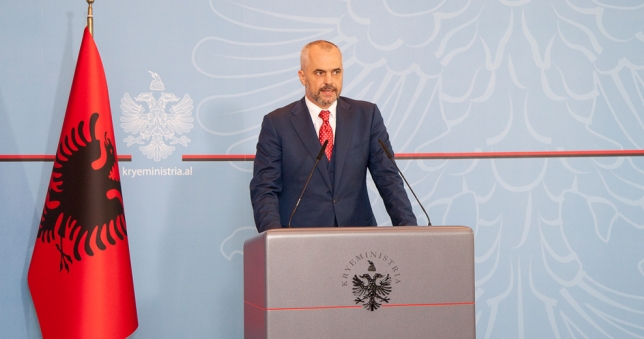 Tirana, November 15, 2013
Prime Minister Edi Rama announced on Friday the refusing decision of the Albanian government over the request of USA to bring Syria's chemical weapons to Albania in order to destroy them.
Mr. Rama declared that it's impossible for Albania to be involved in this operation. Rama announced this decision a few moments ago, in a special appearance for the public, which he had announced earlier during the day.
Below you will find parts of the speech of Mr. Rama over the decision of the government, a speech which lasted 31 minutes and in the past few seconds, Mr. Rama announced the "No" and immediately left the room where he appeared in front of the media.
"We were immediately contacted by our greatest ally, USA, along with other countries to participate in the destruction of chemical weapons and our answer, like the answer of other countries was "Yes"; in principle we're ready, but we don't have the necessary capacities to directly participate in it. Therefore, everything that relates to the transport, expertise must be carried out by the USA.
Allow me, dear citizens, to ask you: Should Albania have said "no" to USA in this great effort for humanity by removing these weapons from the hands of murderers? Can a normal mind think that USA would cause the death and destruction of people by killing first of all its experts? I'm not saying that the destruction of chemical weapons is like eating candies. I would never take a decision without sharing it with you, without going to Parliament to vote it. This is a complicated operation, both civil and military and its preparation cannot be a subject of public debate. I would like to assure you today that in the entire intensive process of these weeks, we have focused on demanding an answer by experts for any question raised by environmentalists and pseudo-experts obtain full assurance that no chemical weapons would remain in Albania. We have been given consecutive assurances, but time was needed. But we haven't taken any final engagement during all this period.
Edi Rama continued by launching a number of strong accusations against the opposition, by saying that it turned the country into a country of big problems and criticized the request for a referendum made by the leader of DP, Lulzim Basha. Rama said that this referendum has taken place on June 23, when he said that, "a referendum was carried out against the wastes".
Moreover, Mr. Rama said that Albania's partner, USA was treated like Assad.
He said that Albania would win morally and physically by admitting chemical weapons in Albania.
Mr. Rama further added that: "With full loyalty toward Albania, our partners took my decision and now you will also learn it: Jo, it's impossible for Albania to be involved in this operation".
The decision of Mr. Rama was announced from the Council of Ministers headquarters, while on the background, there were strong chants by protestors who demanded a "No" by the prime minister on the chemical weapons, and when he ended his speech, chants in his favor were heard. /ibna/
More:
US Embassy reacts over the refusal of the Albanian government