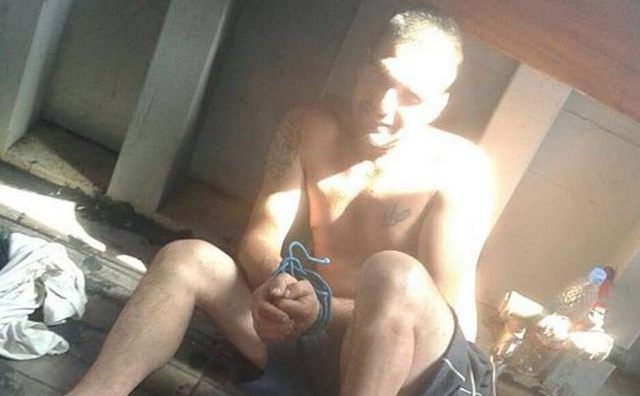 Tirana, 23 June 2016/Independent Balkan News Agency
By Edison Kurani
An Albanian fishing ship has been hijacked in waters, which have not yet been localized well and along with it, two Albanian seamen.
IBNA brings you photos of one of the seamen who was kidnapped. He's Luan Mema, 25 years of age from Durres, who appears tied up and hostage on the board of the fishing ship in which he worked.
The hijacker of "Çelepia 2" ship has come forward. He's an Egyptian sailor. He has switched all the equipment that issue the localization signal, since the very first hours of Wednesday, a few moments after speaking to the owner of the ship, Murat Çelepia an amount of 70 thousand euros.
To confirm the hijacking of the ship and the two Albanian sailors which he holds hostage, the 30 year old Egyptian has also sent to the owner of the ship sailor's Mema photo, where his hands seem to be tied with a rope and feet with a chain.
The Egyptian sea pirate identified as Adel Mohamed Salam, declared that in case the 70 thousand euros are not paid, he will sink the ship along with the Albanian seamen.
All suspicions indicate that the ship is currently near Alexandria in Egypt. According to police of Durres, the Egyptian citizen, Adel Mohamed Salam, has called on Wednesday his fellow countryman, R.A, 53 years of age, who works in the Sea Port of Durres, saying to him that the fishing ship is near Alexandria, Egypt.
To shed light on this case of hijacking, the motive that pushed the Egyptian to carry out such act, Prosecution of Serious Crimes and Police of Durres have launched investigations.
Meanwhile, Durres Port Authority said today that it has sought international help, but there's still no information on the current situation of the Albanian seamen, Dhimiter Malja, 56 and Luan Mema, 25.
Police suspect that the money that the Egyptian is asking are a debt owned by the owner of the ship.
The ship had departed for fishing within Albanian sea waters in the Adriatic Sea on 18 June and this is the fifth day that it has gone missing.
This is the first case when an Albanian ship is hijacked by sea pirates. /balkaneu.com/