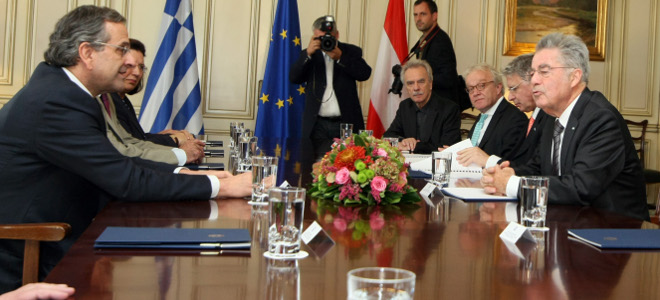 By Spiros Sideris – Athens
Greek Prime Minister Antonis Samaras briefed the Austrian President Heinz Fischer, who visited him at the Maximos Mansion, on the great progress made by Greece on reforms and competitiveness.
"They are the last steps to get the country out of the recession, which has lasted for more than six years", said the Minister and added that never again have so many reforms taken place in such a short time.
The President of Austria stressed on his part that Greece is on a positive trend, recognizing the great sacrifices of the Greek people.
The two leaders made ​​specific reference to tourism and especially to the high flow Austrian tourists to Greece. They also discussed issues in the international arena with an emphasis on the crisis in Ukraine, the action of the Islamic State, the Cyprus issue and illegal immigration.
According to government sources, the meeting lasted about an hour and took place in a very positive atmosphere. Fischer remembered that in school he had been taught classical education and ancient Greek history.
Austrian president also met with Deputy Prime Minister and Foreign Minister, Evangelos Venizelos.
Venizelos called him a "deep and genuine friend of Greece", who "with good speech and movements supporting us in our efforts to finally get out of the Memorandum and the supervision of the troika".
The two men shared a common perception of the Western Balkans, the developments in the region, within the framework of international law and the common European position.