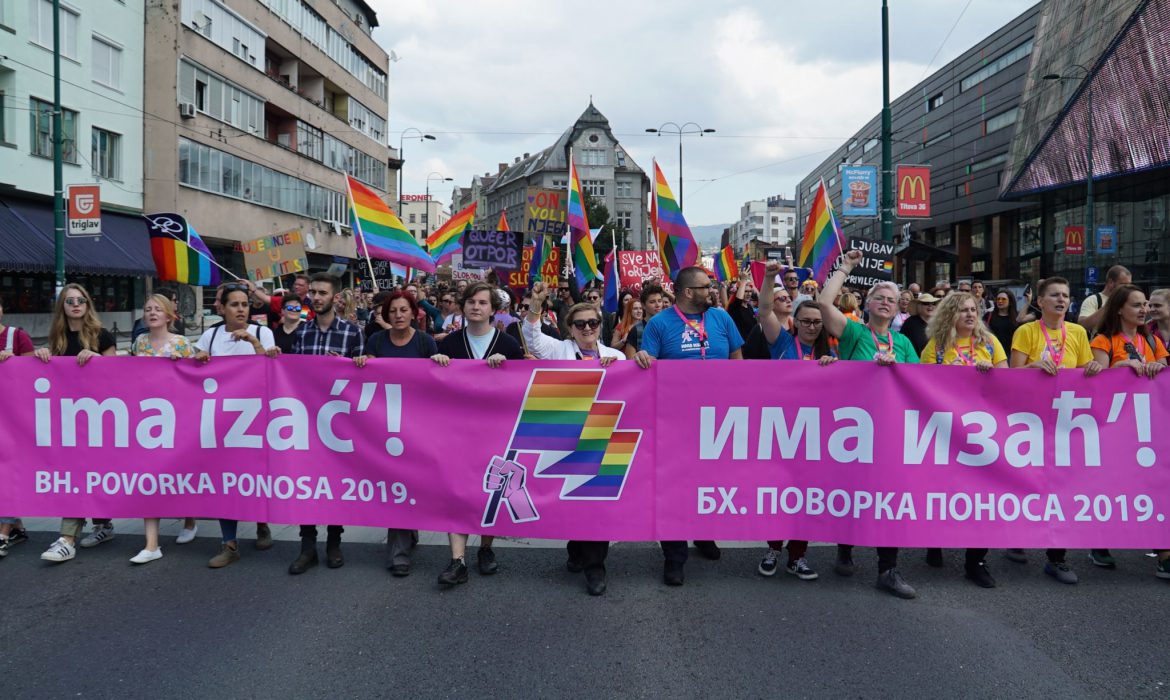 Seventeen embassies in BiH congratulated the Organizing Committee, March participants, local institutions, and citizens of BiH on successfully holding Bosnia and Herzegovina's first Pride March.
The joint statement was signed by members of Embassy of the United States of America to Bosnia and Herzegovina, EU Office in Bosnia and Herzegovina (EU Delegation and EUSR), The United Nations in Bosnia and Herzegovina, Embassy of Switzerland in Bosnia and Herzegovina, The Embassy of the Netherlands in Bosnia and Herzegovina, Embassy of Germany in Bosnia and Herzegovina, Embassy of Austria in BiH, Embassy of Sweden in BiH, Embassy of Finland to BiH, Embassy of the UK in BiH, Embassy of Spain in BiH, Embassy of France in BiH, Embassy of Italy in BiH, Embassy of the Czech Republic in BiH, Embassy of Greece in BiH, Embassy of Romania in BiH, Embassy of Slovenia in BiH, Embassy of Bulgaria in BiH and the Diplomatic Office of the Kingdom of Belgium in BiH.
"The people of BiH came together to reject fear and hate and instead demonstrated to the world that BiH is indeed an open and tolerant country that respects the rights of all individuals. The Pride March is fundamentally about equal human rights for everyone. Everyone in BiH – regardless of their sexual orientation or gender identity – is entitled to all the same rights and freedoms.  However, the fact remains that vulnerable groups are still suffering.
It is everyone's responsibility to support those who are marginalized and face discrimination and injustice", reads the statement.
They thanked local institutions for facilitating the March. Now, as they said, it is time to bring legislation on peaceful assemblies in line with European and international standards, to legally guarantee full freedom of expression and assembly.
"While challenges remain, the people of BiH took an important step in the fight for equal rights for the LGBTI and other marginalized communities. We commend you for your courage in being true to yourselves and for giving hope to others. We are proud to have walked alongside you and will remain by your side as you continue to march for equality and human rights for all", said the Embassies in the joint statement.
Probably the biggest relief with the completion of Sunday's event felt the 1500 police officers who secured participants of the first such event in BiH. A big part of the BiH capital had been closed and there was no chance that somebody with malicious intentions came close to the Parade route.
What organizers – embassies and international organizations, which welcome the Parade as an event that shows the tolerance and multiculturalism of Sarajevo – forgot to mention is the fact that two anti-Parade gatherings were organized in the same city. First of them is "Day of the traditional family", held on Saturday and gathered several hundred of those who are against the definition of a family out of the "man-woman-children" pattern. Some of them shouted "Allahu Akbar", showing that as Islam believers are against this event.
The second event took place on Sunday, just a few hours before the Parade. With similar (traditional) iconography, dozens of citizens expressed their dissatisfaction with the event that was taking place in their city.
One could say say that it is a good thing that the Parade was held and passed without incidents. On the other hand, turning a blind eyes to the fact that anti-Parade protests were held will not help increase tolerance in Bosnia and Herzegovina./ibna