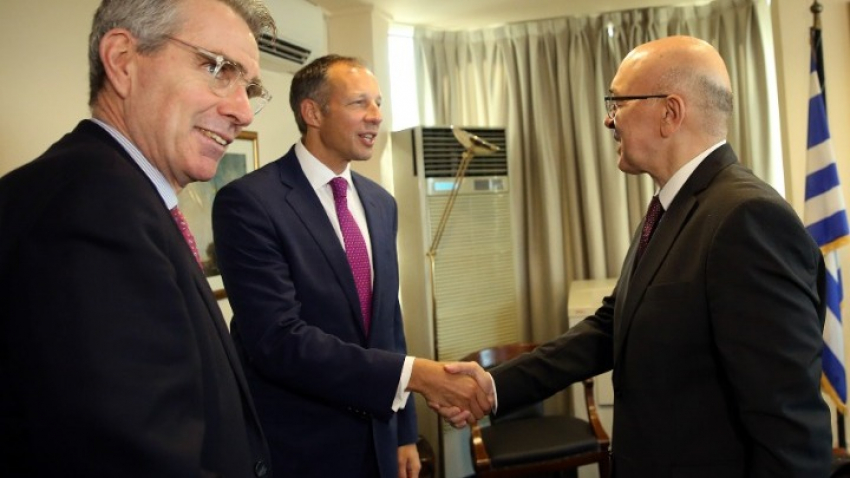 The first Working Group's meeting regarding energy Issues was held in Athens on August 6, 2019, as part of the Strategic Dialogue between the Governments of Greece and the United States of America. The Greek State-Secretary for Foreign Affairs in charge of Economic Diplomacy, Konstantinos Fraginos, the US Assistant Foreign Minister Francis R. Fannon, as well as representatives of the two countries' responsible agencies, reaffirmed Greece's and the US's commitment to further deepen their close bilateral cooperation in the energy sector. The Working Group on Energy is based on the steadily increasing bilateral cooperation following the launch of the December 2018 Strategic Dialogue between Greece and the USA.
The Greek and US delegations underlined the importance of Europe's efforts to diversify energy sources, in order to promote regional energy security. They welcomed Greece's role as a pillar of stability and as a regional hub for transit and gas supply. They discussed the US's possibilities for private investment in the Greek energy sector, the opportunities emerging in the hydrocarbon market, as well as the expansion of cooperation on renewable energy. To this end, both sides have committed to ensure transparency and fair competition, in order to encourage further investments in Greece.
Assistant Foreign Minister, F. Fannon, congratulated Greece on the forthcoming completion of the Greek section of the Interdisciplinary Gas Pipeline (TAP), the ongoing construction work on the Interconnector Greece-Bulgaria pipeline, as well as on the design improvements in the sector of interconnection with North Macedonia. The Greek and US delegations reaffirmed their support towards diversifying export options for commercially viable Eastern Mediterranean energy sources, so that regional energy security is enhanced -which could include new infrastructure projects, such as the East Med Pipeline, as well as enhanced gas storage and distribution capabilities, such as the FSRU station in Alexandroupolis. They also discussed the role the American liquefied natural gas (LNG) can play in achieving the goals of diversifying energy sources in Greece and in the wider region.
During the discussion on US investments in the Greek energy sector, the two sides welcomed the licensing of researches to be conducted by ExxonMobil, in cooperation with Total and Hellenic Petroleum, as well as the potential opportunities for US investment in renewable energy.
The Greek and US delegations pledged to continue their cooperation in all areas discussed during the Strategic Dialogue Working Group, in view of the second meeting to be held as part of the Greece-US Strategic Dialogue, which will take place in Greece in the autumn./ibna