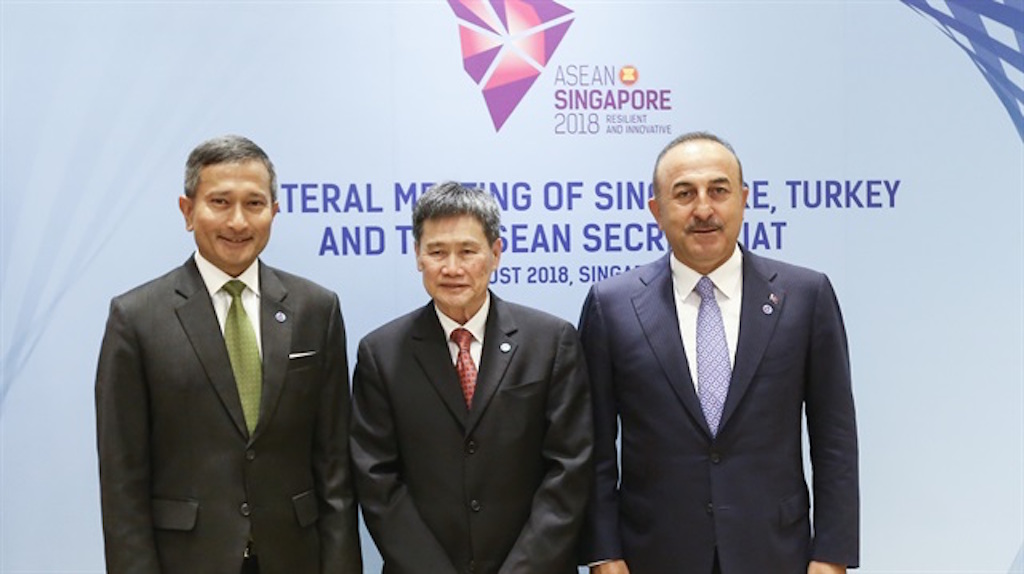 Turkish Foreign Minister Mevlut Cavusoglu, ASEAN Secretary-General Dato Lim Jock Hoi and Singaporean Foreign Minister Vivian Balakrishnan, who is ASEAN's 2018 term chairman, met in Singapore on Wednesday, according to Turkish diplomatic sources, and discussed future steps and areas of co-operation.
Although Turkey is not an Association of Southeast Asian Nations's (ASEAN – 10 member-states: Brunei, Cambodia, Indonesia, Laos, Malaysia, Myanmar, Philippines, Singapore, Thailand, Vietnam) member, the meeting took place as the next step of last year's establishment of a sectoral dialogue partnership between Ankara and ASEAN countries, Anadolu reads.
"The discussion was held in line with the framework of the 51st ASEAN Foreign Ministers' Meeting as part of Turkey's goal to deepen" ties with international organisations.
The Turkish Foreign minister will probably also hold bilateral meetings with his counterparts from other participating countries. The "ultimate objective" of his ministry is to achieve dialogue partnership.
The first time Turkey came closer to the ASEAN was in 1999 and in 2013 it attended its first summit.
With the opening of the Turkish embassy in Laos in 2017, the country now has diplomatic representation in all 10 ASEAN member-states…. / IBNA
Main Photo: Turkish Foreign Minister Mevlut Cavusoglu (R) with ASEAN Secretary-General Dato Lim Jock Hoi next to him and Singapore's FM Vivian Balakrishnan (L) on August 1st, 2018 on the sidelines of the ASEAN 51st Foreign Ministers' Meeting in Singapore