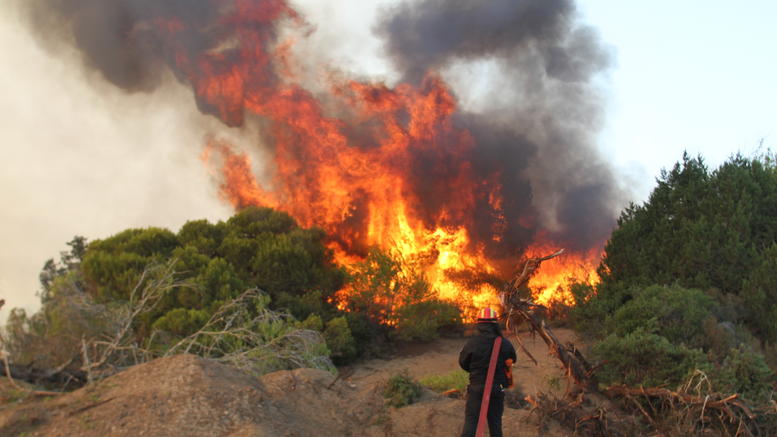 Athens, August 1, 2016/Independent Balkan News Agency
By Spiros Sideris
According to the statement of the Fire Brigade, the western front of the fire at the lake of Euboea is in recession, while in progress remains the eastern front north of the monastery of St. Nicholaou Galataki.
"We are doing better than Sunday, but we still have a lot of work", had stated earlier to in.gr Fire Brigade Lieutenant Athanasios Serentellos, who coordinates on the spot, together with the Support deputy, lieutenant general Vassileos Kapelios, the hard battle with flames in Euboea.
Since 6 am on Monday have begun the aerial throws of water. From midday the efforts had been boosted with six helicopters and two aircraft. To the work of extinguishing the fire take part 140 firefighters with 58 vehicles, 74 members of the hiker Division, 30 soldiers, 27 water vehicles (TABs and private) and 12 earthmoving machines.
The area of Euboea Lake has been declared in a state of emergency in order to enhance the provision of immediate assistance for the recovery of damages from the fire.
Meanwhile, in progress is fire in the pine forest of Konitsa, in the area west of the spa of Amarantos, which erupted at 15:00 pm under unknown circumstances.
At the spot are 10 fire extinguishing vehicles with 28 men and two division of firefighter on foot. The Konitsa municipality has allocated two digger machinery for the creation of a firewall. The fire does not threaten a residential area.
According to the Fire Department, during the last 12-hour (6:00 to 18:00) have occurred at all of 28 fires in forests and rural areas.