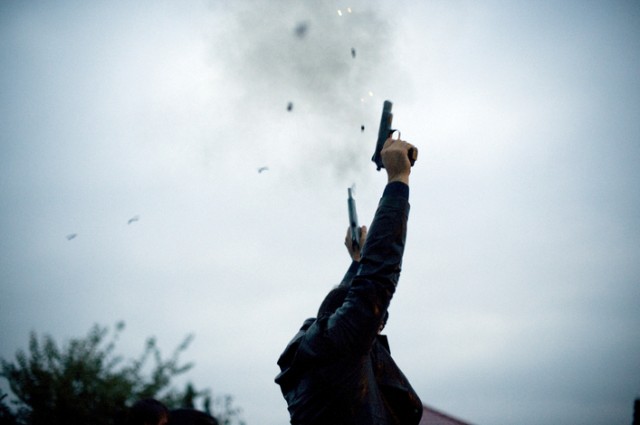 IBNA Special Report
Skopje, August 11, 2014/Independent Balkan News Agency
By Naser Pajaziti
Fire arms in FYR Macedonia have become a real threat to the life of the citizens, but this happens in cases when they're used in parties and family celebrations. Six people have remain wounded within this month from the use of weapons in family parties and this is mainly occurring in areas inhabited by Albanians, where their use is more than a tradition and a way of celebrating. But, this phenomenon is also present in Macedonian inhabited areas.
A young man wounded in Cegran of Gostivar, another one in Struga and two women wounded in Kumanovo is the toll of last week.
Spokesman of the Ministry of Interior, Ivo Kotevski says that this phenomenon is putting in danger the life of the citizens. According to him, weapons are not only used by those who do not have permits, but even by those who have them. "We, at the Ministry of Interior, have launched many investigations to identify the authors of these incidents, but it's difficult to control everything. Recently, there's been a need for a new operation which will aim at collecting illegal weapons. We're open and in case there are proposals for a new operation and we will put it in place", said Kotevski.
According to him, the operation taken place four years ago for the collection of illegal weapons has not resulted successful, because many citizens did not hand in their weapons. According to the law, every person could hand in his weapon to police stations and no penalties would be issued against them.
Professor of the Faculty Security, Stojan Kuzev told IBNA that it's necessary to hold awareness campaigns among the population, but he's also in favor of holding an operation for the collection of illegal weapons.
"As a society, we must be aware that weapons risk our lives and their use in public spaces must be ended. These phenomena must no longer exist, because dangers are increasing every day. In this aspect, it would be necessary to launch a fresh operation for the collection of weapons", says Kuzev.
Citizens have different opinions on the use of weapons in private functions. Besart Saliu told IBNA that the weapon is used as a form of tradition by heads of families in private functions, but according to him, people often abuse with these functions by firing these weapons.
"When the weapon is used to respect the tradition, there are never incidents or casualties. But, in other cases, there are irresponsible teenagers who use these weapons. These cases must be condemned, because they risk the life of the citizens. This is why this phenomenon must be ended", says Besart Saliu, backing operations for the collection of weapons.
A massive operation for the collection of weapons was held in 2003, two years after the end of the 2001 conflict, but at that time, only 7500 weapons were collected. Four years ago, Ministry of Interior invited the citizens to hand in their weapons, but there was not a massive response by the citizens/ /ibna/